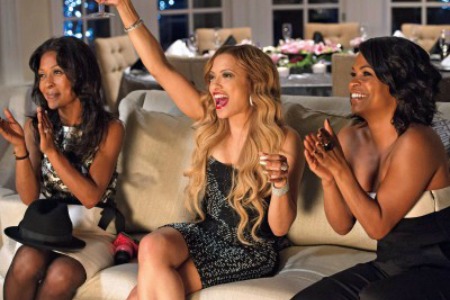 If you are anything like me, you have been anxiously waiting for The Best Man sequel, The Best Man Holiday. I have been stalking websites with insider information, recording First Take on ESPN because the cast was on the show, counting down the days until I can sit in a red movie theater seat with a tub of butter-soaked popcorn and a large blue raspberry/coke slushee. Yes, I'm ready. But alas, the release date isn't until November 15th.
Universal Pictures recently released the official trailer to The Best Man Holiday, and at nearly two and half minutes it is just long enough to get a glimpse how hilarious and dramatic this film will be. It certainly looks like it will live up to the legacy of the original.
Check it out below.
After nearly 15 years apart, Taye Diggs (television's Private Practice), Nia Long (Soul Food), Morris Chestnut (Kick-Ass 2), Harold Perrineau (Zero Dark Thirty), Terrence Howard (Hustle & Flow), Sanaa Lathan (Contagion), Monica Calhoun (Love & Basketball), Melissa De Sousa (Miss Congeniality) and Regina Hall (Scary Movie franchise) reprise their career-launching roles in The Best Man Holiday, the long-awaited next chapter to the film that ushered in a new era of comedy. When the college friends finally reunite over the Christmas holidays, they will discover just how easy it is for long-forgotten rivalries and romances to be ignited.
https://trailers.apple.com/trailers/embed/thebestmanholiday/trailer/index.html
About Post Author