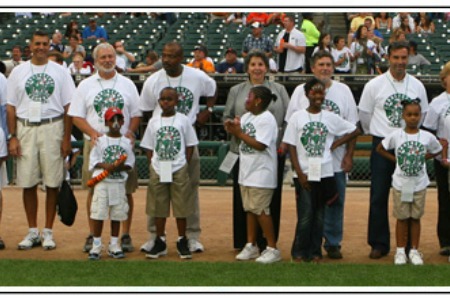 Cornerstone Schools is excited to host the 8th annual "Be a Tiger for Kids" Event on Tues. Aug. 20 at Comerica Park. This annual event helps children in Detroit to receive a first-class education all while watching the Detroit Tigers take on the Minnesota Twins.
The fun-filled family event will kick off with the Rock-N-Roar tailgate at the St. John's Episcopal Church lot on the corner of Woodward and Montcalm beginning at 4:30 p.m. Enjoy food, music from the Simone Vitale band, face painting, games and fun for the entire family. Following the tailgate, there will be a special on-field presentation just before the game. The game will begin at 7:08 p.m. at Comerica Park.
"We are excited to be bringing 'Be a Tiger For Kids' back to Comerica Park for our 8th year. This event brings thousands of Cornerstone Schools' supporters to the event each year," said Ernestine Sanders, Cornerstone President and CEO. "It is a wonderful opportunity for our families and friends who support Cornerstone to come together to enjoy fellowship, cheer on the Tigers and help us meet our fundraising goals."
Making a tax-deductible donation of $50 or more per person will benefit the Cornerstone Schools Scholarship Fund, making it possible to provide over 550 Cornerstone students with an excellent education in Pre-K through 11th grade.
As a thank you for your donation, you will receive a 'Be a Tiger for Kids' event package that includes:
o Ticket entry into the private Rock-n-Roar tailgate party.
o Ticket entry into the 7:08 p.m. Detroit Tigers vs. Minnesota Twins game at Comerica Park.
o A commemorative event t-shirt to wear to the game.
For more information, or to donate visit www.CornerstoneSchools.org or call 1-800-343-0951.
Event sponsors include; Detroit Tigers, Meijer, Pulte Group, ITC Holdings, PWC, Helppie Charitable Foundation, Yazaki, Wolverine Packing Co., LUPO Chiropractic Center, Quicken Loans, Tognum, Fathead, Tubby's, Pepsi, Better Made, Mousetrap Mobile, Starbucks, SME USA, and Hour Detroit.
Founded in 1991, Cornerstone is renowned throughout Metropolitan Detroit for its success in graduating well-prepared, high achieving youth. 95% of its students graduate from high school in a city with the lowest graduation rate in the country, and 91% of its high school graduates pursue higher education. Changing Detroit, one child at a time. For more information, please