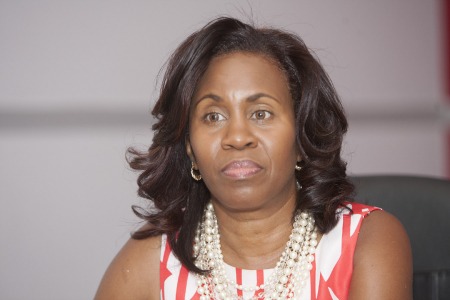 Detroit City Clerk Janice M. Winfrey is extremely busy these days. With the city's primary election less than a month away, her schedule is extremely hectic, both as a candidate — she's running for re-election — and as the city's chief election official. She stopped by the Michigan Chronicle's office recently for an editorial meeting.
Detroit's chief election officer and the keeper of the city's official seal, said the upcoming primary race Aug. 6 is historic.
"This municipal race is very important as the candidates, and ultimately the winners for various city positions, will impact the day-to-day life of all Detroiters," Winfrey said. "It's important that we exercise our right to vote. It's important that we come out to vote so that those in power understand that our voting rights are important. If you want your voice to be heard, it is imperative that we as Detroiters get out and vote."
Winfrey, a native Detroiter, understands that there may be some voters who feel that their voice and vote are not important, especially since the city is now under emergency management.
"I hope that Detroiters realize that their votes matter," she said. "However, it takes an extra push from my office whenever there is an election, so we will again set up satellite voting where voters can come out a good two weeks before Election Day to cast their votes, and it's important for voters to know that they no longer have to provide a reason to vote absentee."
While this will be Winfrey's 11th election as city clerk, there is little doubt that the upcoming mayor's race, despite a sitting EM in place, is shaping up to be one of the most interesting in the last four decades. For the first time since Coleman A. Young became the city's first Black mayor in the early 1970s, a White candidate, Mike Duggan, has received significant support — Black and White — to make a run at Detroit's top job. However, if Duggan is to make history in Detroit, he will have to do so as a write-in candidate, after an appeal court ruling decided that his name could not be placed on the upcoming primary election ballot because he did not meet city residency requirements at the time he filed to run for mayor.
In addition to Duggan, according to Winfrey's office, there will be six other candidates running for mayor who have officially filed as write-ins. As of July 8, they are Alga Marie Anderson-Bowlson, Ricardo Brown, Walter Cole, Cheryl Franklin, Clyde Darnell Lynch and Willis McLeod. According to the clerk's office, July 26 at 4 p.m. marks the filing deadline for write-in candidates.
Winfrey was asked to elaborate on write- in candidacy.
"Candidates must file to be a write in candidate. They have up to the second Friday before the election to declare their intent as a write-in candidate. Upon doing so, we send a list of all declared write -in candidates to polling precincts so they will have a list of qualified write-in candidates," Winfrey said.
The city clerk further explained that when it comes to officially counting a write-in ballot, the voter's intent is paramount.
"For example, if a candidate running for an elected office in Detroit is named Joe Brown, but voters wrote in J. Brown, Jo Brown, Joseph Brown, or misspelled the candidate's name, it's the voter's intent that is considered when tallying votes for the write-in candidate," the city clerk said.
"Two things must happen for any write-in candidate's name to be counted," she said. "First, the name has to be written in and the oval/bubble next to the name must be completely filled. If not, the ballot is not valid."
She said the names of the two top vote-getters in the August 6 election will appear on the ballot for the November 5 election, even if the winners are write-in candidates. Since Duggan has been the most news reported and followed write-in candidate, Winfrey was asked if she expected any challenges to his name being declared for voters to write him in.
"In the city of Detroit, challenges related to elections are the order of the day," said Winfrey, with a smile. "Every race in every category is always challenged. Candidates have the right to challenge."