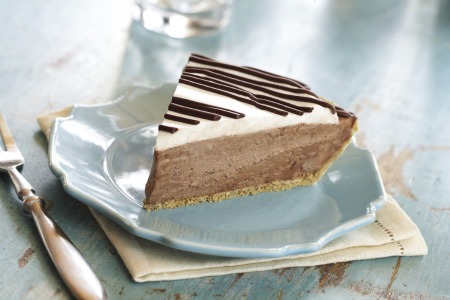 As the weather heats up, the best way to cool down is with a sweet treat! This summer, invite your whole family into the kitchen and get cooking with great new recipes guaranteed to liven up your summer spread.
Good old fashioned flavored spreads are here to help you welcome the warmer weather with two easy dessert recipes fresh from the Jif Recipe test kitchen. Whether hosting a summer barbeque, neighborhood block party or spending special meal time together as a family, here are a few ways the creamy flavors of Jif Chocolate and Mocha Cappuccino Flavored Hazelnut Spreads can sweeten your family's memorable summer moments.
• A mouthwatering homemade pie is always a favorite for dessert. This summer, try something new and give your pie a unique hazelnut twist. Mocha Mousse Pie is a great way to wow everyone at the table and get your whole family involved in the kitchen. Prepare the hazelnut drizzle topping and let their culinary creativity go to work.
• For a refreshing and nostalgic treat, enjoy a good old fashioned ice cream cone during the searing summer months. Give your usual go-to flavor a break and try a scoop of Hazelnut Coconut Ice Cream, a tasty twist on the classic summer standby flavored with Hazelnut Spread and coconut.
Mocha Mousse Pie
Prep time: 30 minutes
Yield: 10 servings
2 cups heavy cream, chilled
2 teaspoons vanilla extract
3/4 cup plus 1 tablespoon Jif® Mocha Cappuccino Flavored Hazelnut Spread, divided
1 (6 ounces) ready-made graham cracker pie crust
BEAT heavy cream in large bowl with electric mixer on medium-high speed until stiff and soft peaks form. Beat in vanilla. Reserve 3/4 cup for topping. Stir 3/4 cup hazelnut spread in medium bowl until smooth. Stir into remaining whipped cream until combined. Spoon evenly into graham cracker crust.
SPREAD reserved whipped cream over center of pie to within 1-inch of edge. Place 1 tablespoon hazelnut spread into corner of small resealable plastic bag. Microwave on HIGH 10 seconds or until soft. Cut a small corner off of bag. Drizzle over top. Chill 2 hours.
Hazelnut Coconut Ice Cream
Prep time: 10 minutes
Yield: 5 cups, 10 (1/2 cup) servings
2/3 cup Jif® Chocolate Flavored Hazelnut Spread (or Jif Mocha Cappuccino Flavored Hazelnut Spread)
1 can (15 ounces) cream of coconut
2 cups half-and-half
BEAT chocolate hazelnut spread and cream of coconut in large bowl with electric mixer on medium speed until smooth. Stir in half-and-half. Beat until well blended, about 1 minute.
FREEZE in ice cream maker according to manufacturer's instructions.
PLACE ice cream into freezer-safe container. Cover and freeze until firm, about 4 hours.