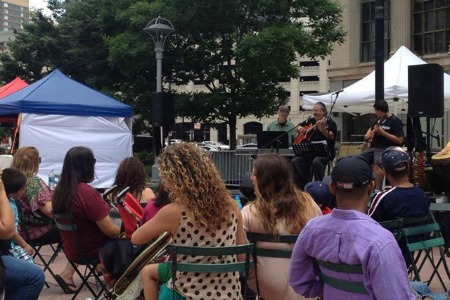 Continue the 4th of July celebrations this week with even more summer fun downtown! Spend your evenings exploring the Quicken Loans Summer in the Park series that are launching this week. Enjoy music, movies, and more without leaving downtown!
Tuesday evening marks this week's first series launch with Classical Music Tuesdays Presented by WRCJ 90.9FM from 7 – 8:30pm at Campus Martius Park. The orchestral ensembles kicking off the season is the seasoned Michigan Philharmonic. Nan Washburn, 18 time ASCAP Award winner, conducts the orchestra in their performance of "An American Salute in Motown." Classical Tuesdays will run through July 30 and will feature the DSO String Chamber Orchestra, presented by Honigman, the Detroit Chamber Winds and Strings, Xiao Dong Wei and Friends, and the Beyer-Stacey Duo.
You're invited Wednesday evening to join fellow Detroiters at Grand Circus Park to enjoy the smooth sounds of live jazz while enjoying special theatrical performances on the park lawn stage. The series showcases Opportunity Detroit Jazz Experience from 5:30 – 6:30pm every week through August 14. The opening theatre performance by the Michigan Opera Theatre will follow from 7 – 8:30pm. The Elizabeth Theatre Company, Plowshares Theatre, Nadanta East Indian Dance, Ralphe Armstrong, and Shakespeare-in-Detroit are also showcased throughout the series.
Sunset in the City Music Thursdays is back, kicking off this year's season with Joan Belgrave and the Original Vandellas from 5:30 – 8:30pm. This free music series is presented by Absopure and Strategic Staffing Solutions. Belgrave will entertain the crowds with sweet love songs, sorrowful blues, and swinging beats. The Original Vandellas will follow with their greatest hits. The free music series will run through August 22 and will also showcase Alexander Zonjic & Friends, Larry Lee & The Back In The Day Band, Motor City Soul, Kaleido, the Gelheads L'Renee, and Serieux.
Also back by popular demand and launching this year's season is Faygo Movie Night in the D presenting Academy Award-nominated and winning films under the stars in CMP. Films begin at approximately 8:30pm on Saturday nights July 13-August 10. This week will showcase Les Miserables, a critically acclaimed adaptation of the epic musical phenomenon. Enjoy Faygo beverages and Good People Popcorn, available for purchase, while you enjoy the show! Also showing are Skyfall, Silver Linings Playbook, Lincoln, and Life of Pi.
The Marketing Associates Beach Party sand activities continue from last week and the Beach Party Concert Series begins this week with the 2013 Detroit Music Awards winner for Outstanding Reggae Band, Roots Vibrations. Enjoy dancing in the sand to island sounds on the Frankenmuth Brewery at Campus Martius Park Fridays from 5:30 – 8:30pm!
Campus Martius Park is grateful for Quicken Loans presentation of Summer in the Park 2013 and the wonderful support from all of our Official Sponsors including Compuware Corporation, McDonald's, WXYZ Channel 7, Meridian Health Plan, GalaxE Solutions, Honigman, Marketing Associates, Absopure Water, T-Mobile, Faygo, Frankenmuth Brewery, The Detroit People Mover, Detroit Metropolitan Convention & Visitors Bureau, Strategic Staffing Solutions, TI Automotive, Clark Hill, Hines, Westin Book Cadillac Hotel, People's Transit, good people popcorn, 89X, 93.9 The River, Real Detroit Weekly, WRCJ 90.9FM, D-Hive, The Somerset Collection, Greko Printing, Blumz, Great Lakes Trophies, The Carr Center, Hard Rock Café, and Sterling Group, among others.