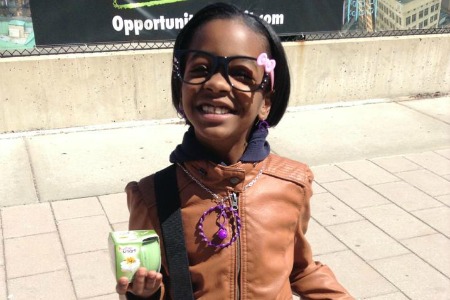 We happened to cross paths with a young, inspiring entrepreneur in Detroit.
While most of us are still perfecting our pitch this little lady has her energetic and passionate story polished to share with the world. Asia Newson is ten years old and running her own candle business called "Super Business Girl."
Check out Asia Newson's sales pitch
The young lady told us shes been an entrepreneur for 7 years already, and that she plans on giving back to Detroit when she becomes mayor of the city. Bamboo Detroit captured her pitch below.
Brian Davis Co-founder of the co-working space Bamboo Detroit is offering this young entrepreneur free office space inside their office, with parental guardian.
"We saw her pitch in Detroit and had to offer her space," said Brian. "We need to support young entrepreneurs, they're the future of this city."
Bamboo Detroit is located at the corner of Brush and Gratiot in downtown Detroit, offering work space and shared services between members. They are taking applications now.
Photo Credit: DetroitHub
https://www.michipreneur.com/youn-detroit-kidpreneur-gets-free-office-space/