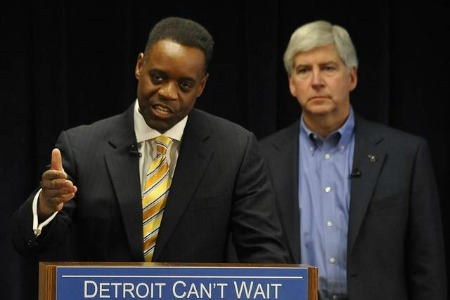 DETROIT — State-appointed Detroit emergency manager Kevyn Orr has a message for the city's creditors: Get on the bus and take a look at the gravity of the city's blight and decay.
Orr plans to take about 25 bankers on a tour next week of some of Detroit's hardest-hit areas, including the largely abandoned Brightmoor neighborhood on the city's far west side.
"If they can see what it's like for Detroiters, what they endure every day in this city, I think they'll begin to understand what's at stake," Orr told reporters Wednesday. "Imagine what it's like to be a mother riding that bus with no air conditioning, that shows up late and takes an hour and a half to get you where you need to go."
Orr, a bankruptcy expert, was hired by the state in March to take over control of Detroit's finances. The city is running a $380 million deficit this year, and Orr has said long-term debt could top $17 billion.
The city that had 1.8 million people in the middle of the last century is down to about 700,000 mostly low-income residents today. Besides a loss of tax base, it has gone through a string of corruption scandals that have sent former Mayor Kwame Kilpatrick and former City Council Member Monica Conyers to prison.
Wielding the threat of a bankruptcy filing, Orr has asked for sharp concessions from unions representing current and retires municipal workers. And he has asked bond-holders to accept steep markdowns on what they're owed.
Orr stopped paying Detroit's unsecured creditors in mid-June and seeks to settle their $11.4 billion in claims with about $2 billion. Continue to Star Tribute…