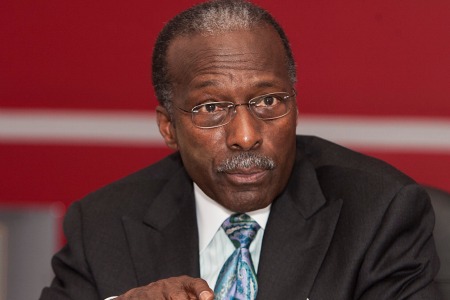 Roy S. Roberts, emergency manager for Detroit Public Schools (DPS) and former high-level executive for General Motors, is not one for theatrics. During a recent editorial meeting at the office of the Michigan Chronicle, Roberts calmly discussed DPS' strategic plans for the upcoming school year and beyond.
"We (DPS' strategic planning team) firmly believe that we have to make bold moves and make them now," Roberts said. "We believe that this is the most critical time in the history of Detroit Public Schools because if we don't do it (make bold moves) and don't do it right, Detroit Public Schools will go away."
Roberts talked candidly about a plan to boldly move DPS forward. He revealed that over the past 10 years, the District had lost almost two-thirds of its enrollment. He also talked about the decline in state funding and shrinking annual budgets aimed at educating DPS children.
Yet, amid the painting of a gloomy picture that has negatively portrayed the school district for decades, Roberts is encouraged by how far DPS has come in the two years, and one month that he has served as the District's EM, and he is heartened by where the District is going.
Roberts unveiled a strategic transformation plan for the upcoming school year and beyond, which was created after surveying and soliciting input from more than 600 educational stakeholders. Those surveyed included students, teachers, principals, administrators, staff members, parents, ministers, civic and community leaders and others.
The five-week planning process culminated to reflect the need to broaden services that address student needs, support parents and families, offer broad and high-quality programs, improve customer service, provide quality programs in safe learning environments, transform central and school-based services to better serve customers, improve technology, minimize the impact of change, foster school-based leadership, celebrate and promote success, ensure fiscal stability, and implement a revised student attendance and code of conduct policy.
The completed strategic plan, titled "Neighborhood-Centered, Quality Schools," has 36 objectives, embedded in 12 major goals. The plan's central themes are "starting earlier and working longer, working harder and working smarter, joining together and expecting more."
From the strategic plan, numerous deliverables are scheduled for DPS' Sept. 3 opening, which will include the formation of 10 community schools to open in DPS buildings; the creation of 42 new Pre-K classrooms; the implementation of new art and music enrichment programs at all elementary and middle schools in partnership with city-area agencies; the re-investment in DPS career and technical centers; the expansion of "Eyes and Ears Citizen Patrols" to cover high priority zones; and the implementation of an individualized school marketing plan to attract 5,000 new students which will involve school principals and teachers marketing their respective schools.
On the innovative marketing approach, Roberts said. "Every school knows the educational best path for its students. Therefore, DPS will provide training at the school level so that principals and their staffs are better equipped to market their schools' strengths and advantages."
Roberts said the District's aggressive summer-long marketing campaign is being implemented to recruit the 5,000 new students. If it is successful, the increase in the District's enrollment will rise to approximately 51,160 students for the 2013-14 school year, an increase of 2.68% over the last year, which is a step in right direction.
Roberts talked about DPS investing in pre-school programs and other school-based resources that will prepare children for learning and the parents in better parenting skills.
"There's a great need to educate every four-year-old in the city," Roberts exclaimed. "All research conducted say that you have to take them (four-year-olds) because they can learn much faster. If our kids are further behind, why not take them on much earlier? So we are going to make education available to every four-year-old child in the city of Detroit."
Part two of the Roberts interview will be published in next week's edition.