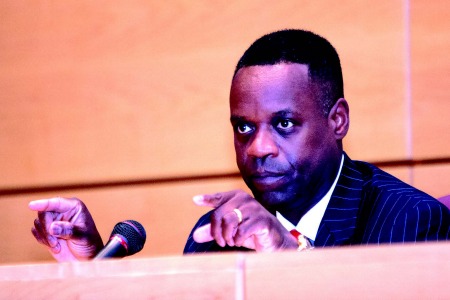 City engulfed in scandals, financial crisis and leadership challenges
The leadership challenges facing Detroit are begging for answers that are hard to find in this town.
Because failed political leadership, accompanied by an enabling resistant culture, is the order of the day, and people for so long have not demanded much from those who have been guardians of the status quo at city hall, it is difficult to believe that the current crop of candidates running for mayor and city council have answers for a city that is on the brink of bankruptcy and serious financial reform.
It's problematic to even remotely suggest that those who are currently seeking to be entrusted with serving in Detroit government will offer anything different from the current political and economic turmoil that the city is faced with as a result of those in government today.
A reorganization is in order if Detroit is going to make any headway in the public interest. The present challenges are crippling the city politically as well as financially.
Let's begin with the sweeping scandal of Detroit City Council President Charles Pugh disappearing from public sight and now under a police investigation, following allegations of inappropriate relationship with a teen. Without knowing much detail in this titillating scandal, still, Pugh, as head of the largest municipal government in this region, owes Detroiters an answer. And running away is not the answer for a man who was elected to serve on the council as well as be its president.
When former mayor Kwame Kilpatrick's scandals began to unravel, he too disappeared from public sight and later surfaced at a church to render a televised apology for his misdeeds.
When the going gets tough Detroit expects its leaders to face the difficult choices head-on, not to go into hiding.
Whatever is driving the scandal is Pugh's personal issue and the city, at a time when it is facing tough choices on reform, should not be a victim to the personal choices of its leaders.
Added to the Pugh conundrum is the resignation of his deputy president on the council, Gary Brown, who grabbed a $225,000 job on the 11th floor of the Coleman Young Municipal Building working as top deputy for emergency manager Kevyn Orr.
In this unexplained and yet to be defined position, Brown will serve as chief compliance officer for the city, leaving a city council that is already in a political transfix, further rendering the legislative body toothless even though it's mandated to take care of much day-to-day business.
Since compliance by definition requires some regulatory certification or requirement, as former council member Sheila Cockrel rightly put it during a live broadcast of "Flashpoint," WDIV's Sunday morning political show, the public has yet to learn what in Brown's background makes him the appropriate choice for compliance manager for the city.
Would it have served the public better for Brown to stay on council until the end of his term and then announce his next public venture, instead of jumping ship in the midst of a political crisis that's already fractured the legislative body for a highly lucrative position?
In the private sector you can change positions any time and in any way without much explanation. It won't merit a mention in the media. But in the public sector, where taxpayer dollars are on the line, there is explaining to do for these kinds of moves even if it is tactical and calculated for Brown, given his supposed relationship with State Treasurer Andy Dillon.
If and when Orr exits after 18 months as emergency manager and heads back to Jones Day law firm, is Brown being positioned or positioning himself to be the next emergency manager or de facto mayor until all of the reforms at city hall are complete?
While the motive be­hind the Brown decision remains unclear despite his press release sent out last week, the council took another blow in member Kwame Kenyatta's abrupt resignation only after his unexplained absence from city council was brought to light in a newspaper column.
Kenyatta had derided the council for lack of effectiveness under an emergency manager and dismissed any kind of role it could play moving forward with Kevyn Orr pulling the strings. But he was still on the public payroll until last week.
What is happening in Detroit reads like a soap opera, so it makes us wonder what, where and when will the next shoe drop.
"You can't make this stuff up," is the response I've been getting from people across the city.
But wait, it's not over. After been knocked off the Aug. 6 primary ballot, mayoral candidate Mike Duggan announced that he is going to mount an aggressive write-in campaign, after urging from supporters like Strategic Staffing Solutions CEO Cindy Pasky, to finish second in the primary for the general election showdown in November.
Duggan was removed from the ballot following a challenge from opponent Tom Barrow who succeeded after two courts agreed with his position that Duggan wasn't qualified to be on the ballot.
Even though Duggan's inclusion in the race raises the stakes because he and Wayne County Sheriff Benny Napoleon viewed in polls as the two major contenders, it still does not end the litany of legal challenges Barrow is expected to present to the Duggan campaign.
With Duggan out of the race, neither Barrow, nor any of the other candidates will present any real significant challenge to Napoleon because of name recognition and a well oiled campaign structure, and the Napoleon campaign should embrace a tough and competitive race for their candidate.
The crop of candidates outside of Napoleon and Duggan lowers the campaign bar and makes the race less competitive with no expressed stakes even though all of the candidates have a deep love for public service demonstrated by their willingness to be in the race, and having previously served the public.
I prefer a competitive race and one that forces the candidates to make serious commitments to addressing the issues facing Detroit.
We should not have a mayor by default and any serious candidate worth his or her salt shouldn't accept the tag of being a "mayor by default," because what makes this process healthy and productive is creating a space where there is genuine competition and we raise the stakes in the election.
That all of the problems facing this city, from abandoned neighborhoods and crime to re-energizing and bringing in new businesses, should be laid out on a competitive table that allows for debates and the candidates make public declarations they will be held to should they be elected.
Detroit should not be victimized again because of inept leadership and candidates masking as possessing real desire to serve when the goal is to look out for their own interests.
These candidates should lead by example. That not usually being the case in the past, or in the present, is the reason why the city is where it is today.
Bankole Thompson is editor of the Michigan Chronicle and the author of the forthcoming book "Rising From the Ashes: Engaging Detroit's Future With Courage." His book "Obama and Black Loyalty," published in 2010, follows his recent book, "Obama and Christian Loyalty" with an epilogue by Bob Weiner, former White House spokesman. Thompson is a political news analyst at WDET-101.9FM (NPR affiliate) and a member of the weekly "Obama Watch" Sunday evening roundtable on WLIB-1190AM New York and simulcast in New Jersey and Connecticut. E-mail bthompson@michronicle.com or visit his personal page at www.bankolethompson.com.