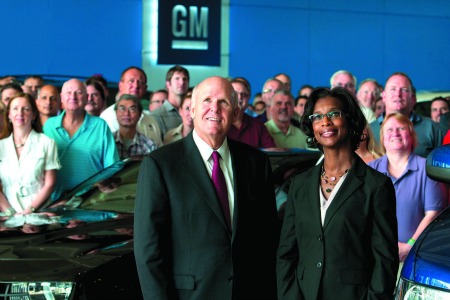 Title: Senior vice president of Global Quality and Global Customer
Profile: Married, two sons
Once upon a time, in better times, there was a popular slogan frequently cited by anyone remotely connected (and in Detroit and the Midwest that was pretty much everybody), "As GM goes, so goes the nation."
Since then, a financial crisis of phenomenal proportions nearly wrecked the auto industry, leading to U.S. government bailouts and the day the car as king came to a (pardon the pun) crashing halt.
But on Thursday, June 27, in a heavily secured, but triumphant celebration at the General Motors Tech Center in Warren, Michigan JD Powers and Associates officials had an extraordinary announcement to make. One that would make GM employees ecstatic and put industry insiders on notice. In the 2013 J.D. Power Initial Quality Study, General Motors was named the best automaker in the world for initial quality and eight of its models placed first in their respective categories.
And there would be one more historic announcement that day. GM president Dan Ackerman appointed Alicia Boler-Davis — the driving force behind General Motors remarkable accomplishments and new found cache — to senior vice president of Global Quality and Global Customer. The appointment makes Boler-Davis only the second African American woman in automotive history to report directly to the office of the president, and expands her customer experience role from a U.S. position to one of oversight for GM operations worldwide. The new title is effective July 1, 2013.
Boler-Davis, previously a plant manager at Orion Assembly and Pontiac Stamping plants in Michigan, hardly looks the part though. As I sat across from her in her relatively sparsely decorated office with Danish furnishings and a very futuristic phone on the conference table, the relatively petite and very ladylike automotive executive made it clear while she is GM's highest ranking African-American female executive. She is the exemplification the C's of leadership; commanding, competent and confident. Boler-Davis is only the second African-American woman in automotive history reporting directly to an auto company president.
In 2012, Alicia Boler-Davis made history when GM combined two areas as an industry-first under her leadership.
On the challenges of
being a woman in a man's world…
GM supports diversity and you can see that with the number of senior leaders that we have on our executive operating committee and the number of women we have on our board. It's a company that supports diversity and supports it through talk in action. But you still have a number of people who have a more traditional view and view the auto industry as male dominated and have an opinion around what women can and cannot do. They may not just say it, so you won't get anyone who says 'you should not be here,' but you see the initial surprise. There may be some condescending attitudes, but when you are capable you can change their minds. We have women every day who push through (the boundaries) and I am glad to be one of those women.
On the challenges of being a Black woman in a leadership role…
We know there are still people that have attitudes about Blacks and other minorities that are not always positive. So I believe that it adds another level of challenge, the same way I approach being a female in this position, is the same way I approach being a I Black female in this position. I don't focus on the negative, I focus on me and what I am supposed to do every day and how can I do my job better, and guess that the rest will take care of itself. If there are issues I confront them. If you don't like me that's one thing, but you still have to do your job, whether you like me or not.
On the most important attributes for women in a leadership role…
You have to have the skills and the background and the capability. That's just number one and you have to believe that you can do it. And then you have to get the results. And I have also learned over the years that it is about your team and you have to inspire your team to follow and to lead. It's not about you. You have to be okay with taking risks. Being capable and able doesn't mean you have to be the expert in the room.
A typical work day…
I typically start in the office at 6 a.m. I spend time looking at our current product, how are we performing, identifying the issues and analyzing our progress. I have as much interaction with the team as I can. A 12-hour work day is normal. And because I have a global team I quite often go home and have global conference calls.
I also frequently get to talk to customers about their experiences. One of the things I like best about my role is that it goes all the way from design to the product. I am a hands- on type person and I love being in the plant. I want to feel the pace and the heartbeat of the plant.
How she got there…
I have been with the company for 19 years … I worked in a number of roles in the plant and I worked in every department. I was at eight or nine plants over the years. That was a great example of the changes that we were driving at GM and how we are taking an integrated approach. The whole enterprise has to take part in order to be successful. It's not just Alicia driving (the process). The whole enterprise has to come to the party. I have a reputation for getting results and driving change. I like to work and I like to work hard.
Our goal as a company has been to be a recognized leader when it comes to quality and customer experience, so we have a very robust goal. What has made us get better is our customers' expectations.
About Post Author