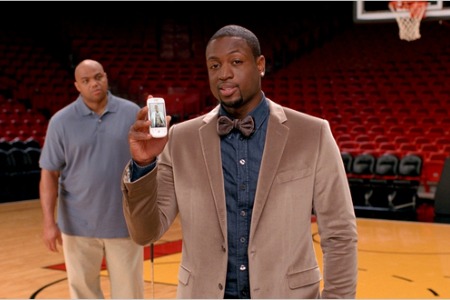 Dwyane Wade is "driven" to get into the app business.
The Miami Heat guard released a fitness app called "Dwyane Wade Driven" while his team was simultaneously celebrating its third NBA championship with a parade and rally. The app offers customized training programs and videos for basketball players and other athletes.
"It shows people ways to work out, a lot of different ways to work out, whether it's basketball drills or not," Wade told The Associated Press. "A lot of people work out at home. A lot of people don't have access to a gym. A lot of people don't have trainers. So it's kind of like I'm the personal trainer for basketball and fitness and I'll show them a lot of things I do with my body and for my body."
The app was available for download starting Monday. It includes basketball drills and a fitness routine, along with ways for users to track their progress.
Driven Apps, the publisher, plans to release additional bundles for users to download once they have mastered or completed the initial Wade program.
"It's something that we've worked on for a while," Wade said. "I actually filmed it earlier this season. It's something we've talked about for a while, something I've thought about doing in many different ways. Apps are so big now, so important, everyone has them on their phones, this became the best way to do it. It's very nice, very well done."
It's the latest business move for Wade, who is estimated to be making nearly as much off the court this year as the approximate $17 million salary he earned on the floor with the Heat. He leaves on July 1 for China, where Li Ning — the shoe company he has partnered with — is headquartered, and has several other business meetings there.
"When I was the leading scorer in the league, the top man on the Miami Heat, I had a lot of endorsements and things going," Wade said. "I have more now than I even did then. My brand is as busy as it can be and I'm just trying to make it better. All I'm doing right now is I'm planning for the future. I don't know how much longer I want to play or can play the game, so I'm thinking about the future."
Wade said he expects to work out throughout the summer, though will need some time to rest aching knees. He isn't sure when he will resume playing basketball, though he plans to be ready for the start of Heat training camp.
"Taking a little rest," Wade said. "Then I'm going to really start focusing on my body again."
Wade just completed his 10th NBA season.
About Post Author