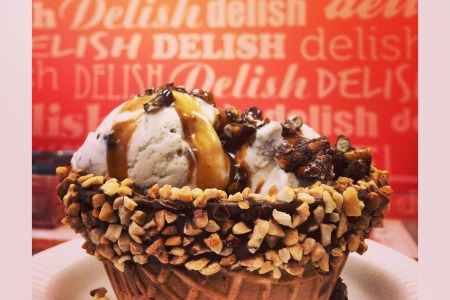 Ice cream is the perfect pairing with cake, so it's a natural that Just Baked, metro Detroit's specialty cupcake shop and bakery, would add it to its sweet menu. But Just Topped is all about the toppings.
Just Topped will feature all homemade toppings prepared by Just Baked such as four varieties of warm sauces (milk, dark, caramel and peanut butter) and 15 dry toppings including granola, brownie bits, cookie crumbles, cake pieces, samoa and shortbread. Just Baked has teamed up with Royal Oak-based Ray's Ice Cream to develop exclusive ice cream flavors for Just Topped such as red velvet, birthday cake and cookies and cream and white chocolate raspberry, as well as traditional vanilla, chocolate, strawberry and butter pecan.
Launching first at Just Baked's Detroit location (719 Griswold in the Chrysler House) on June 17, Just Topped will roll out to additional locations in Canton, Macomb Township, Southgate and Troy by June 24. Other stores, including Ann Arbor, Grosse Pointe, West Bloomfield and Royal Oak, will add Just Topped to its menus later this summer. The Detroit store will offer $1 one-scoop ice cream cones on June 28 to celebrate the new product line.
"Just Topped is something we've been working on for a while and what makes it so special is that the ice cream is a vehicle for our yummy homemade toppings," said Pam Turkin, founder and owner of Just Baked. "There are endless combinations and customers are going to have a lot of fun creating their sundaes."
Since its founding in 2009, Just Baked, a specialty cupcake shop and bakery, has been has been serving up its sweet treats exclusively to metro Detroit residents and visitors at 17 retail locations throughout Southeast Michigan.
About Post Author