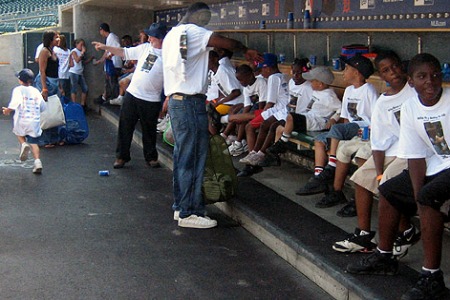 Willie Horton Batting for Kids is a baseball challenge that hosts more than 450 children ages 5 -15 providing the opportunity to participate in a baseball competition that includes base running, hitting and throwing. Additionally, the children will participate in baseball demonstration clinics.
Event proceeds benefit Don Bosco Hall, a 60-year-old human service agency that provides social service programs to enhance the lives of local youth and their families. The non-profit agency responds to the human service needs of children's families in the metropolitan Detroit area through mentorship, residential treatment, transitional living and community enrichment programs.
Participating youth compete for awards in three different skill areas: hitting, throwing and base running. Individual awards are awarded to the top boy and girl in each age division. Participants also have the opportunity to participate in demonstration clinics.
Winners and sponsors from the event return to Comerica Park for a special pregame recognition ceremony before the Tigers game on Friday, July 30.
Sara Lee, Ballpark Brands and Pepsi donate refreshments for participants.