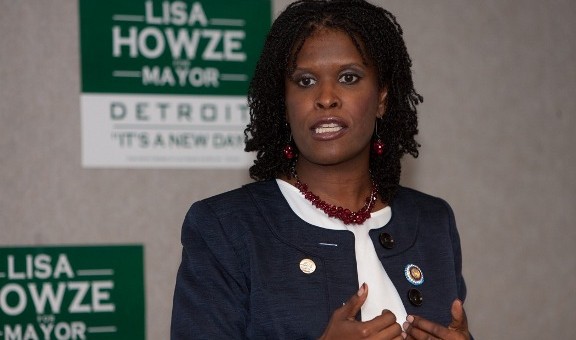 By Patrick Keating
CHRONICLE STAFF WRITER
Mayoral candidate Lisa Howze said there is a need to have someone in the mayor's office who is financially competent and who knows how to address the city's financial situation, and then align that to what emergency manager Kevyn Orr is doing.
She believes she's that person.
Howze, who'd previously served a single term in the state house, cited her background as a CPA, as well as a her legislative experience, as qualifications for the job as mayor.
"Many of the issues that have been discussed have been ones related to our finances," she said. "That's why we have an emergency manager."
She also said her first client in public accounting was the city of Detroit.
"I was responsible for a multi million dollar grants management program in the city of Detroit," she said. "I've also, in my corporate finance life, been responsible for performing audits for [everything from] major corporations down to your mom and pop shops."
If elected, Howze will come into office with a plan that will address crime, the financial situation, and strengthening neighborhoods.
She said people tell her crime is their primary concern.
She also said that tied in with strong neighborhoods is making sure Detroiters have opportunities to earn a living in the city, whether as an employee, an entrepreneur or a small business owner.
She said the first priority of a government is to make sure the citizens are secure.
"When people feel safe, they keep their homes here," she said, adding that when businesses feel that their employees, customers and property will be safe, they'll open their establishments in Detroit and keep them there.
She also said crime has a direct impact on the insurance Detroiters pay.
Her plan to lower the insurance rate of both residents and businesses involves installing crime surveillance cameras in high crime areas. She said they'll serve as a preventive measure, making a criminal think twice about breaking into a home; firing a gun; or carjacking someone if they know there's the possibility of being caught on camera.
Howze added the crime surveillance cameras will also help create jobs because retired law enforcement officers and police reserves will be hired to monitor what's taking place on the film.
"And keeping in mind the privacy of individuals, I want people to be clear that this is not a method to spy on the innocent, but it's a way so that we're no longer victims to those who want to commit crimes against us."
With respect to strengthening the relationship between the mayor and the city council, Howze said the main thing is that both sides have to put people first.
"We have to put personal agendas and politics aside and say that we're coming together on behalf of the people," she said.
She also said the mayor/council relationship has to operate out of respect and trust.
"That means that if there is something that I want the council to vote on, I have to give them ample time to understand what that measure is," she said, adding that there have often been "surprises" during the current administration.
She cited Belle Isle as an example, saying the council was asked to vote on the matter before either they or the mayor could review it and understand all the ramifications.
She said that resulted in a lot of infighting, accusations and council members feeling as if they weren't "in the loop."
"So, the best thing to do would be to make sure you eliminate as much of that as possible, giving them an opportunity to fairly vote on measures that I'm asking [for]," Howze said.
Asked if she'd like to see police officers walking a beat, she said "absolutely."
"That type of police presence sends a totally different message than the type of message we're sending today," she said. "It says that the police and the community have a relationship. The police can be looked upon as a friend and something that children will aspire to become, again."
She said no one aspires to grow up and become a police officer any more. Instead, they fear the police.
"And so it [having police officers walking a beat] will allow there to be more support for things that are in the community, like our local businesses," Howze said. "When you know there's police presence, I feel more comfortable going to the dry cleaners at the end of my block. I feel more comfortable getting gas in the middle of the night or first thing in the morning without someone taking my car or assaulting me at the gas station."
She said that's the type of message her administration would want to send to the city.
"When it can be that way in other communities, I ask myself why can't it be that way in the city of Detroit," she said. "And so that's what I want to make happen for our city."
Asked if there's another city or another elected official she views as a model, Howze cited Southfield Mayor Brenda Lawrence. She said Southfield has both a strong business base and a strong housing market.
She also cited the leadership of former Atlanta Mayor Shirley Franklin.
"In many cases, you've seen the transformation of areas that have had similar problems as the city of Detroit," Howze said.
She also cited Baltimore Mayor Stephanie Rawlings-Blake.
"My attitude is if they can do it there, than surely we can do it here," she said.
If elected, Howze said the first group of people she'd want to meet with— aside from her management team— would be the city employees.
"Because many times they've been beat down and left out of the conversation when it comes to how mayors have governed in relation to the employees," she said.
She'd also meet with other regional leaders within her first 90 days in office. She said she's receptive to regionalization as long as it doesn't mean the marginalization of Detroit.
"We will come to the table as a strong partner or we won't come at all," she said.
Howze said Detroit is moving in a new direction with new leadership and a new vision; and that the status quo is over.
Asked what aspects from Detroit's heyday that need to be re-introduced, Howze said getting back to strong communities and business ownership, because when more people in the city were business owners, more people were in a position to control their own destiny.