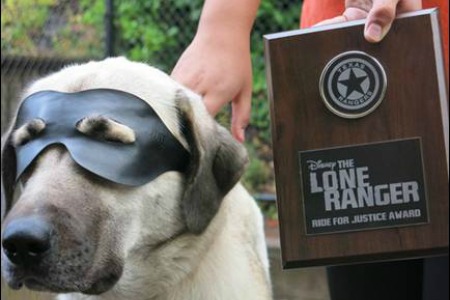 Disney announced today that on Monday night, June 24, local heroes were honored at 15+ special advance screenings around the country as part of a 60+ nationwide screening program executed in conjunction with The Lone Ranger Ride for Justice campaign. Armie Hammer, who plays John Reid aka The Lone Ranger in Disney/Jerry Bruckheimer Films' epic adventure "The Lone Ranger," opening July 3, made a surprise appearance at the New York screening to award plaques to two local heroes, FDNY EMT Brendon Hernandez and Vietnam Veteran Sgt. Israel "Jorge" Lugo of the Bronx Vet Center.
Hernandez was also recognized recently by Mayor Bloomberg and Police Commissioner Ray Kelly as one of the two heroic EMTs who recently disarmed a deranged man who wrestled a gun away from a NYPD policeman and used it to shoot another officer outside of Harlem Hospital. Lugo is a hero to heroes, having served two tours in Vietnam and dedicated his time thereafter serving his fellow veterans in need by actively volunteering in services that are available to them with regard to health, jobs and housing and also visiting veterans in nursing homes across New York City.
The Lone Ranger Ride for Justice kicked off on June 12 to celebrate local heroes and organizations that stand for justice, integrity and righteousness in their communities. Fans nominated their local heroes and 15 fan screenings were held across the country to honor the chosen local heroes in each of these markets: Los Angeles, New York, San Francisco, Chicago, Philadelphia, Miami, Boston, Houston, Atlanta, Phoenix, Denver, Orlando, Oklahoma City, Detroit and San Antonio.
In addition to Hernandez and Lugo, other local heroes honored on Monday night include Vietnam War Veteran and humanitarian Arturo Cuevas (Los Angeles), Shakira, the hero dog (San Francisco), John Gordon and the Chicago Police Memorial Foundation (Chicago), Vince DiSanto and the entire King of Prussia Volunteer Fire Company (Philadelphia), Regainne Georges of
Miami-Dade Fire Rescue (Miami), Dr. Maura Iversen, Chair of the Northeastern Physical Therapy program whose students assisted at the finish line of the Boston Marathon (Boston), Hector Guzman, a veteran who helped clean up after hurricane Katrina (Houston), Gino Mojica of
Doraville Police Department (Atlanta), Officer Paul Chavez of the Phoenix Police Department (Phoenix), Desmond Fulton and the Denver Fire Department (Denver), Michael Waldrop, veteran, Purple Heart recipient and Founder of Camaraderie Foundation (Orlando), Robert Norris & Jonathan Moore, founders of 2 Men and a Truck who supplied relief aid for those affected by recent
tornado damage (Oklahoma City), Sheriff Deputy Brian Behrend (Detroit) and San Antonio Fire Department (San Antonio).
ABOUT THE MOVIE:
From producer Jerry Bruckheimer and director Gore Verbinski, the filmmaking team behind the blockbuster "Pirates of the Caribbean" franchise, comes Disney/Jerry Bruckheimer Films' "The Lone Ranger," a thrilling adventure infused with action and humor, in which the famed masked hero is brought to life through new eyes. Native American warrior Tonto (Johnny Depp) recounts the untold tales that transformed John Reid (Armie Hammer), a man of the law, into a legend of justice-taking the audience on a runaway train of epic surprises and humorous friction as the two unlikely heroes must learn to work together and fight against greed and corruption.
"The Lone Ranger" also stars Tom Wilkinson, William Fichtner, Barry Pepper, James Badge Dale, Ruth Wilson and Helena Bonham Carter.
A Disney/Jerry Bruckheimer Films presentation, "The Lone Ranger" is directed by Gore Verbinski and produced by Jerry Bruckheimer and Gore Verbinski, with screen story by Ted Elliott & Terry Rossio and Justin Haythe and screenplay by Justin Haythe and Ted Elliott & Terry Rossio.
"The Lone Ranger" releases in U.S. theaters on July 3, 2013.