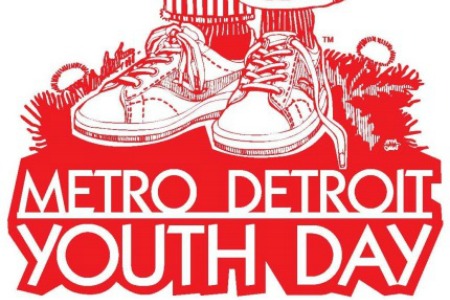 Eighty high school graduates to receive college scholarships at
Metro Detroit Youth Day July 17 on Belle Isle
Warren, Mich. – (June 25, 2013) – Eighty high school graduates will
receive college scholarships at this year's 31st annual Metro Detroit
Youth Day (MDYD), Wednesday, July 17, on Belle Isle.
"We are proud to see these students honored with scholarships," said Ed
Deeb, co-founder and chairman, of Metro Detroit Youth Day; and chairman of
the Michigan Food and Beverage Association. "The event is more than just
a fun day for kids. We want the kids to know that businesses and the
community-at-large care for them and their future. We appreciate our youth
and we respect them. We want to help them get to college, graduate and
stay in Michigan to help our state prosper."
The scholarship award presentation will take place at 8:30 a.m., and the
event's official kick-off ceremony will begin at 10 a.m. with area
dignitaries, sports celebrities and government leaders.
Deeb added, "We want to encourage youth to pursue academics and a college
education, and help reduce the financial burdens of students who can't
afford higher education through our Metro Detroit Youth Day Prize
Coalition. Students who work hard are recognized and awarded with the
scholarship prize each year."
The purpose of the Prize Coalitionis to provide resource opportunities to every deserving and willing youngperson who desires a higher educational experience.
MDYD awards scholarships to deserving students who submitted an
application and essay to be considered. MDYD received 160 submissions this
year, which is a record amount. MDYD provides more than $35,000 in
scholarships each year. Since 1991, MDYD has awarded nearly 1,000
scholarships. Scholarship funding is also provided by Michigan's colleges
and universities, event sponsors, companies, organizations and the general
public. Additionally, MDYD will recognize area high school students for
community and academic achievement.
To donate funds for Metro Detroit Youth Day scholarships, send a check to
"Michigan Youth Appreciation Foundation" and mail to 27700 Hoover Road,
Warren, MI, 48093.
Organizations awarding scholarships this year include: Pepsi Beverages
Co., Sam's Club, Skillman Foundation, Michigan Food and Beverage
Association (MFBA), DAC Executives Club, Michigan Youth Appreciation
Foundation, Wrightway Enterprises, The Prize Coalition, DTE Energy, Arab
American & Chaldean Council, MGM Grand Detroit, Detroit Community Health
Connection, Detroit Lions, Detroit Pistons, Henry Ford Health System, MGM
Grand Detroit, Wayne County Sheriff's Dept., Saginaw Valley State
University, Michigan State University, University of Michigan, Eastern
Michigan University, Davenport University, Wayne County Community College,
and Western Michigan University.
MFBA will award memorial scholarships in honor of Detroit activists Fr.
William Cunningham and Focus: Hope Co-founder, Eleanor Josaitis; grocer
Jack Bennett; Detroit Free Press columnist Bob Talbert; former MFBA
chairman Phil Lauri; Boy Scout leader Jerry White; TV and radio newsman
Jerry Blocker; United Way leader Virgil Carr; Detroit produce business
leader, Herb Abrash, and Detroit council president Maryann Mahaffey.
Scholarships will also be presented in memory of local restaurateur Ray
Mourad; retail business entrepreneur and lifelong member of the AT&T
pioneers Sarah Deeb; Michigan Chronicle Publisher Sam Logan; Boy Scouts
leader Al Thomas, NAACP leader Winston Lang, owner of Ciaramitaro Brothers
Produce in Eastern Market, Sal Ciaramitaro and his wife Anne Ciaramitaro,
and Arab American News reporter, Kay Siblani. "All of these people were
active supporters of Metro Detroit Youth Day," added Deeb.
Metro Detroit Youth Day is a day full of free fun, games, contests,
celebrities, entertainment and food for children between 8 and 15 years of
age. Organizers of the 31st annual event expect more than 35,000
youngsters to participate this year. MDYD is organized by local
corporations, small businesses, the food industry, and civic and
children's organizations. Store owners and other businesses sponsor buses
to transport the children to and from Belle Isle for MDYD.
In order to participate, students can obtain registration forms by calling
586- 393-8800 or by visiting the website at www.metrodetroityouthday.com.