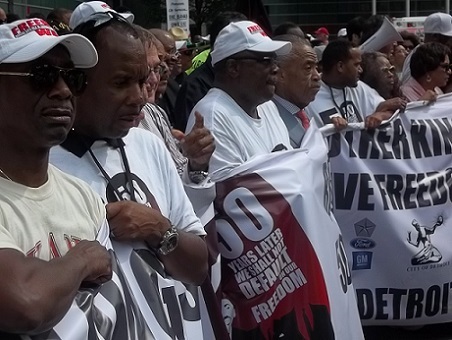 Amid talk of apathy and despair on the part of Detroiters frustrated with the current state of affairs in the city, tens of thousands gathered at the intersection of Mack and Woodward Avenue to march in the in the Detroit Freedom Walk, commemorating the 50th anniversary of Dr. King's historic march in 1963. Dr. King previewed his famous "I Have a Dream" speech in that march.
Lead by a contingency of present day civil rights leaders including Martin Luther King Jr., Rev. Al Sharpton, Rev. Jesse Jackson and Dick Gregory, Freedom Walk marchers made their way down Woodward Avenue to Hart Plaza in a show of solidarity and voice their support for the principles of freedom and equality.
Organized by the Detroit Branch of the NAACP, participants voiced their opposition to revisionist policies regarding voters' rights, immigration reform and affirmative action recalls.
Detroit NAACP President Wendell Anthony said the march "signifies that the work for freedom and justice must continue" in Detroit and worldwide.
Sharpton says it's important to keep fighting for justice and marchers weren't merely taking "a nostalgia trip down Woodward."
For more see photos below: