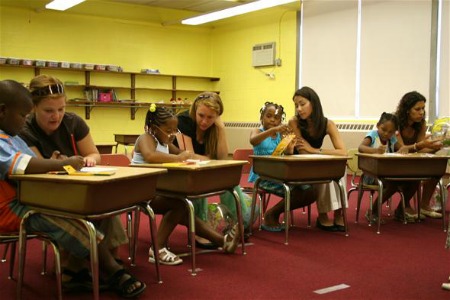 Detroit-area adults can help change a child's life by tutoring children this summer at The Education Experience at St. Vincent and Sarah Fisher Center. The nonprofit Center needs volunteers for its July 9 through Aug. 15 summer learning program, which is free to students.
"Volunteers work one-on-one with children and are guided by our staff. Time spent both in and out of the classroom is dedicated to learning traditional curriculum and life skills," says Diane Renaud, Executive Director/CEO of the Center.
The program meets weekly on Tuesday, Wednesday, Thursday, 1 p.m. to 4 p.m. The summer-long learning program is aimed at first, second and third graders. In addition to helping children build reading and math skills, the program provides students with experiences that they do not have in their typical school classroom.
People interested in participating are encouraged to call volunteer coordinator Sister Marie Judith Haupt at (313) 535-9200, ext. 3104. All volunteers receive orientation and training, and are assisted daily by the Center's dedicated staff.