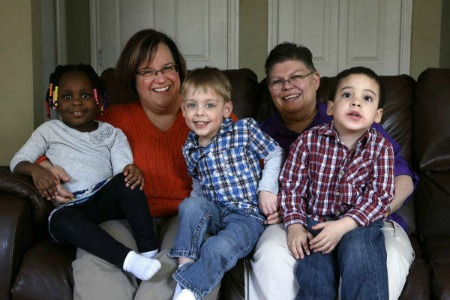 The Supreme Court is expected to rule on two same-sex marriage cases on Monday (June 24), which means we'll be watching for the potential impact on Michigan's ban, and the lawsuit against the state filed by April DeBoer and Jayne Rowse.
DeBoer and Rowse, parents of three special-needs children, sought to change Michigan's adoption code so their children could have the same rights and benefits as children of heterosexual married couples. Instead, at the behest of federal judge Bernard Friedman of the Eastern District of Michigan, the pleadings were amended to challenge the state's marriage ban. Then, this March, Judge Friedman stayed the case, and wait for the potentially precedent-setting decisions by the Supreme Court.
Attorney Dana Nessel (Nessel & Kessel Law), representing April and Jayne, is available to provide more insight into the possible impact on Michigan gays, lesbians, and families like April and Jayne's. If the Supreme Court decisions are announced on Monday morning as expected, there will be a press conference at noon at Wayne State's Law School in the atrium of the Damon J. Keith Center for Civil Rights, 471 West Palmer Street.
At the press conference, Nessel and Carole Stanyar (The Law Offices of Carole Stanyar) will help decipher the rulings and to explain what those cases could mean for the Michigan ban. We will confirm the presser the morning of – if the Supreme Court announcement is delayed, we will hold off until it hits.
For more about April and Jayne, please see http://nesselandkessellaw.com/deboer-rowse-fund/