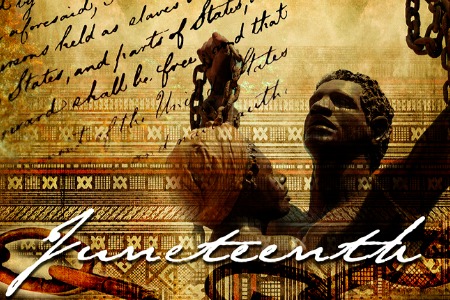 Nationwide (BlackNews.com) — In the 1930s, thousands of formerly enslaved African-American elders dictated their full life stories during interviews that were conducted by the US federal government. These transcripts are stored in six archives in the United States, and compiler Donna Wyant Howell is in the process of categorizing them by subject matter.
Howell has begun compiling the interviews into a series of books, entitled the I WAS A SLAVE book collection. The books contain text that remains virtually in their unedited words, along with their photographs that were taken during the interviews and others that were taken during slavery.
Six books that are available now are subtitled: Descriptions of Plantation Life, The Lives of Slave Men, The Lives of Slave Women, The Breeding of Slaves, The Lives of Slave Children, and Slave Auctions.
WHAT IS JUNETEENTH?
Juneteenth was the name given to the celebration that was founded in Texas where the last American slaves learned that they were freed on June 19, 1865. The annual festivities now have spread throughout this country and Juneteenth is an official holiday in many states.
SAMPLES OF FREEDOM DAY QUOTATIONS FROM FORMER SLAVES
William Mathews: All we talk about freedom git so bad on de plantation, de massa make me put de men in a big wagon and drive em [from Louisiana] to Winfield. He say in Texas dere never be no freedom. I drive em fast and it take bout two days. But dey come back home. Massa say if he catch any of em, he gwine shoot em. Dey hang around de woods and dodge round til de freedom man come by.
We went right on workin after freedom [when first declared]. Old Buck Adams wouldn't let us go. It was way after freedom dat de freedom man [from the federal government on June 19] come and read de paper, and tell us not to work no more unless us git pay for it. When he gone, old Mary Adams come out. I recollect what she say as if I jes hear her say it. She say, ten years from today, I'll have you all back again. Dat ten years been over a mighty long time and she ain't git us back yit, and she dead and gone.
Bud Jones: A time come when we'd see sojers [soldiers] trompin by our place. It was a war. Then one day, Old Master rang a bell and called all the slaves round and helt up a white flag afore em and said, You listen good to me cause I'm goin tell you somethin? you goin be glad to hear. They [There] ain't no more slavery. You is free. The slaves jumps straight up in the air and dance and sing and shout, The freedom! Oh, praise to Gawd [God], the freedom! Thank Gawd!? That night, down on the flats round the cabins, they was millin all night. They had torches and marched ?round singing: No more bullwhips gwine call me, no more, no more. Like times a many thousand gone, no more, no more! No more bloodhounds gwine run me, no more, no more. Like times a many thousand gone, no more, no more!
JUNETEENTH WEEK SPECIAL – 20% DISCOUNT ON BOOK SETS
* Discounted orders online: www.iwasaslave.com/juneteenth
* Discounted orders by telephone: 202-737-7827 (Eastern Time Zone, Washington, DC) or order by mail after calling or going online for details
SOCIAL MEDIA:
Visit www.Facebook.com/iwasaslave and www.Twitter.com/iwasaslave to Like, Share, and Follow the ancestors? words!