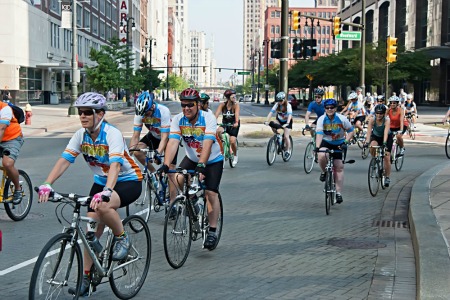 DANIALLE KARMANOS' WORK IT OUT GEARS UP FOR FOURTH ANNUAL MOTOR CITY BIKE RIDE
Two Routes Offered in 2013
(Detroit, MI – June 17, 2013) … Beginning at 6:30AM this Saturday, June 22, 2013, Danialle Karmanos' Work It Out in partnership with the DMC Children's Hospital of Michigan (DKWIO), hosts the fourth annual Motor City Bike Ride (MCBR) sponsored by Compuware.
This year, riders have their choice of two different ride routes: the new 20-mile Fun Ride to Belle Isle Park and the
62-mile Metric Century Ride to Metro Beach Metropark. Funds raised through the Motor City Bike Ride benefit DKWIO's unique youth programming; promoting optimum health in mind, body and spirit through a comprehensive yoga-based approach that reduces anxiety, helps prevent childhood obesity and increases children's self-esteem.
Registration begins at 6:30AM on the first level of Compuware – refreshments available – and both rides depart from Campus Martius Park at 8:00AM.
The 20-mile Fun Ride provides a "break stop" at historic Belle Isle Park where riders can rest, re-energize and enjoy light refreshments before heading back to Campus Martius. Fun Ride bikers are expected to return to Campus Martius between 9a-11am.
The 62-mile Metric Century Ride (100 km) takes riders to Metro Beach with break stops and refreshments at the Grosse Pointe Public Library and St. Clare Shore's Fishbone's. At Metro Beach bikers will enjoy lunch from Gourmet Everyday and an opportunity to have any kinks massaged away. Metric Century Ride bikers will arrive back at Campus Martius starting at 1:30p until 4p.
"Our mission is to equip children and their families with the tools to make healthy choices. We have built the program slowly and strategically with an unwavering commitment to kids, good health and metro Detroit. We are excited to recruit a great group of riders to hit our city's streets raising funds to further our mission for children," says DKWIO Founder Danialle Karmanos. "This year, we are thrilled to offer a fabulous 20-mile Fun Ride to engage even more riders and make the Motor City Bike Ride even more inclusive."
Each registered rider receives an official MCBR, custom-made Louis Garneau jersey – to wear while riding or don in celebration of completing their ride.
Total MCBR capacity is limited to 150 riders and participants must be 18 years or older. Helmets are required. Advance registration is $50 ($75 day of). Riders are encouraged to maximize their fundraising potential by seeking additional sponsor donations.
To register or make a donation, visit: www.motorcitybikeride.com
To view the bike route, click here: 2013 Motor City Bike Ride 20 and 62 Mile Map
Compuware is located at 1 Campus Martius in Detroit.
Free parking is available at Compuware's Visitors Parking for riders, their friends and family.