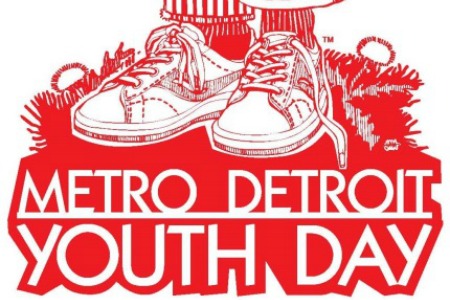 Metro Detroit Youth Day celebrates youth, focuses on reducing crime, and emphasizes education
The 31st annual event takes place Wednesday, July 17 on Belle Isle
WARREN – (June 13, 2013) – For more than 30 years, Metro Detroit Youth Day (MDYD) has welcomed Detroit's youth for a day of encouragement, fun, guidance, and to award college scholarships. On Wednesday, July 17 from 8:30 a.m. to 2:30 p.m., Belle Isle will host more than 34,000 students from Flint to Windsor, and Ypsilanti to Detroit.
"The main goal of Metro Detroit Youth Day is to reduce crime and bullying by bringing together metro Detroit's youth for a day of positive experiences, fun and constructive activities, sports workshops, exposure to Michigan's colleges and universities, and much more," said Ed Deeb, co-founder and chairman, of Metro Detroit Youth Day; and chairman of the Michigan Food and Beverage Association.
Deeb added, "When we started Metro Detroit Youth Day 31 years ago, it was to instill peace in the community following altercations. It is truly a success story about people and organizations working together for harmonious relationships and a better community. We must continue to work together to also protect our youth and inspire them to do the most good."
This year's event features workshops, clinics, entertainment, contests, dignitaries, and more, including the following:
Reduce Crime
With an emphasis on reducing crime, MDYD will offer four workshops for students focused on student and general crime, health and wellness, anti-bullying, and entrepreneurship.
Sports
MDYD will include sports clinics including martial arts, golf, tennis, weight lifting, boxing, track and field, football, basketball, and more.
New to Metro Detroit Youth Day this year are partnerships with The Detroit Pistons and the NFL Alumni Detroit Chapter/Gridiron Institute.
The NFL Alumni Detroit Chapter and the Gridiron Institute have partnered with the 2013 MDYD to present their 2013 Youth Football Clinic for metro Detroit youth from 10:30 a.m. to 12:30 p.m.
Former NFL players will conduct fundamental skill drills, instruction and games at the Belle Isle athletic fields. Participants will get a chance to interact with former players such as Lem Barney, Damian Gregory, Ron Rice, and more. Wayne State University football players will also be on hand to assist and sign autographs.
The Detroit Pistons, along with Sprite, committed to renovate the outdoor basketball courts on Belle Isle. Following the unveiling of the renovated courts between 11 a.m. – noon, MDYD and the Detroit Pistons will host the Sprite Ultimate Challenge finalist, chosen from approximately 500 kids that attend summer camps through the Detroit Recreation Center, to compete for various Pistons & Sprite prizes. Day of event during MDYD will include Pistons legend(s), player and entertainment teams.
Education
MDYD will award scholarships to deserving students who submitted an application and essay to be considered. MDYD received 160 submissions this year, which is a record amount. MDYD provides more than $35,000 in scholarships each year. Since 1991, MDYD has awarded nearly 1,000 scholarships. Scholarship funding is also provided by Michigan's colleges and universities, event sponsors, companies, organizations and the general public. Additionally, MDYD will recognize area high school students for community and academic achievement. The scholarship award presentation begins at 8:30 a.m.
The General Motors Foundation is the lead sponsor of the education area, which includes MDYD's College Row. This area provides an opportunity for students to visit with and learn more about Michigan's colleges and universities. This year's lineup includes: Baker College; Central Michigan University; Eastern Michigan University; Grand Valley State University; Michigan State University; Oakland University; Saginaw Valley University; University of Michigan, Ann Arbor; University of Michigan, Dearborn; University of Michigan, Flint; Wayne State University; and Western Michigan University.
"Education is a significant focus area for the GM Foundation and Metro Detroit Youth Day provides an opportunity to bring young students together to learn more about universities and their educational options," said GM Foundation President Vivian Pickard. "This is just one of many initiatives that we support to bring area students the resources they need to succeed."
To donate funds for Metro Detroit Youth Day scholarships, send a check to "Michigan Youth Appreciation Foundation" and mail to 27700 Hoover Road, Warren, MI, 48093.
The Education and Exhibit areas will include opportunities for the kids to interact with organizations including: the American Red Cross; Detroit Public Library; Karmanos Cancer Institute; Leslie Science & Nature Center; Michigan Humane Society; National Oceanic and Atmospheric Administration Great Lakes Environmental Research Lab; Pawn Power Chess; Right to Life; and Youthville.
Other MDYD event exhibitors include: Action Photo; Children's Aid Society; College Readiness Plan; Crime Stoppers; Detroit Coalition Against Violence; Detroit Community Health Connection; Detroit Historical Society; Detroit Public Schools Foundation; Forgotten Harvest; IADT Detroit Academy; Keep Michigan Beautiful; Michigan Technical Academy; New Life Empowerment Group; The Salvation Army; VSA Michigan; and the Wayne County Sheriff's Department.
Free Lunch
Courtesy of members of the Michigan Food and Beverage Association and the food industry, youth and volunteers attending MDYD will be provided with a free lunch, which includes various foods and beverages.
Entertainment
Kids, from ages 8 to 15, who won an opportunity to perform during MDYD, will provide entertainment for event guests by singing and dancing, including the finalists in the MDYD Idol Contest. The Mosaic Youth Theater will also perform as well as musicians from the Michigan State University Community Music School in Detroit. Motown star Martha Reeves will sing the National Anthem during the opening ceremony of the event, which starts at 10 a.m.
Deeb added, "It's important for today's youth to recognize that the community, business people and civic groups support them and their future. It's an inspiring day to see our youth gather on Belle Isle to experience a day full of positive support."
About Metro Detroit Youth Day
Chaired by Ed Deeb, Metro Detroit Youth Day was founded in 1981 by Deeb, the late Tom Fox and Jerry Blocker. Metro Detroit Youth Day has established itself as the largest youth-focused event in Michigan. After fatal altercations in 1980 between youth and area retailers in Detroit, Detroit Mayor Coleman A. Young directed community leaders to provide resolution. Metro Detroit Youth Day has grown annually from 1,000 attendees the first year to more than 34,000 youth attending. More than 1,600 volunteers, from more than 500 businesses and civic groups, donate their time to supervise the sports clinics, games, contests, luncheon and various other event activities. Metro Detroit Youth Day expanded in 1991 to include youth guidance, mentors, role models, anti-substance abuse activity, motivational speakers, entertainment, awarding of 80 or more scholarships yearly, and honoring outstanding students for academic excellence and community service. Metro Detroit Youth Day has been awarded the Point of Light Award No. 477 from President George H.W. Bush and the Points of Light Foundation, the Michigan Governor's Award on Physical Fitness as the top youth event along with numerous honors from local and national governmental agencies. More information about Metro Detroit Youth Day can be found at www.metrodetroityouthday.com or on Facebook.