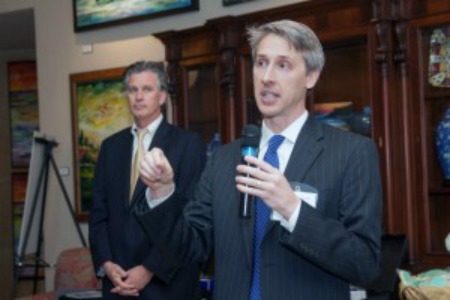 Increasing access to capital is a key driver in Governor Snyder's strategy to create more and better jobs in Michigan. In the first of our Capital Markets series on access to capital, Paul Brown, vice president, Michigan Economic Development Corporation Capital Markets group, discusses the strategies and programs that the MEDC is deploying to connect Michigan businesses with the capital they need to grow.

What is the Capital Markets group?

The Capital Markets group is comprised of a debt and equity team. Every team member came from the private sector and is truly a subject matter expert. We have a lawyer, accountant, several bankers, economists, etc.

We are focused on increasing the availability of capital for companies in Michigan. We do this by working with private sector capital sources, our key customer, to design programs that increase "eligible" investment criteria and capital capacity.

The Capital Markets group breaks down the private capital markets by stage of company development in order to determine if there is inefficiency in a particular market resulting in good companies not being able to find the capital they need to grow. In those situation we will consider creating a program if a small amount of state dollars can profitably be invested correcting for the inefficiency, resulting in the private sector reenter that space, and if private expert decision makers, who's interests are aligned with the publics, can be the investment decision makers.

Simply put, we want the private sector to put in most of the money and make the investment decision, assuming our interests are aligned.

What has Michigan been doing to help businesses access capital? How does this compare to other state's initiatives?

The Capital Markets group has been very active in creating and refining programs over the last several years and the ability to create a program quickly is critical to success. The capital markets are very fluid – we need to be able to create a solution as quickly as the issues develop.

We have programs that invest directly into and alongside venture capital firms, sub-debt firms, and senior lenders. Each program usually attacks a sub category of each of these. For instance, there is plenty of sub debt in Michigan generally, but there is a serious lack of sub debt for companies in underserved urban communities and for companies with sub debt needs under $5 million. We have just launched several funds targeting this market.

Michigan is now considered the leader among states in developing programs to support access to capital. Our early-stage equity programs are resulting in 10 percent year-over-year growth in our VC community when most of the country is shrinking at a 20 percent year-over- year pace. Our new sub-debt programs are one-of-a-kind and I believe will revolutionize the way economic development agencies deploy capital, aligning interests and investing with the private sector.

When an entrepreneur or business leader is comparing potential sites for their business, how does access to capital factor in?

It is one of the most important factors. There are a few companies that have the luxury of attracting state grants, even they should consider their long term access to capital needs. Michigan simply has more and better programs to help companies at every stage of development than any other state.

What do you see as the advantages to doing business in Michigan overall?

Our universities, location, transportation, tax climate are all advantages, but for me it's innovation! Michigan has been the center of most of the economic booms in the U.S. Before we were even a country the fur trade boomed. The Hudson Bay Company had its headquarters in Michigan. Then timber, iron ore mining and steel, transportation of agriculture goods through the great lakes, and finally the industrial revolution/auto. Each of these was the tech revolution and boom of their time. It is hard to predict what innovation, industry or company will be next, but odds are it will happen here.

Where can someone go to find more information on programs that the Capital Markets team offers?

The MEDC has business development managers that cover the state. They are our front line with Michigan businesses and can provide information on all of MEDC's programs. They work closely with businesses to address a variety of needs.

All of our programs are listed on our website under Access to Capital and we have a capital locator there that can assist in finding specific capital sources that we may have supported.

Can you give an example of a company that the Capital Markets team has worked with that showcases success?

Manistique Papers, Inc. (MPI) in Manistique, MI was opened in 1920. MPI is one of North America's premier producers of 100 percent recycled fiber content. The company announced in 2011 it would shutter the mill in August after its lender wouldn't work with it on loan terms that would allow it to continue operating. Manistique Papers was facing bankruptcy, including a sell-off of its assets. Then, Manistique-based mBank, brokered an agreement with MEDC to utilize the Capital Markets Loan Participation Program on the new extensions of credit being provided. Thanks to the MEDC- brokered deal, the company is on track to return to 156 employees from 35 and maintain operational sustainability.

Paul Brown, JD, MBA is the Vice President of the Capital Markets group of the Michigan Economic Development Corporation (MEDC). Paul manages the bulk of the State's $2 billion 21 Century Jobs Fund, which consists of venture capital, private equity, and mezzanine fund investments. Paul also developed and manages programs to enhance and streamline bank loans to businesses and many of the state's tax incentive programs targeted at investors. He is considered a national expert in public-private finance, and has testified before Congress and several State House and Senate committees. Before joining MEDC, Paul was an attorney in the Manhattan office of the law firm Skadden, Arps, Slate, Meagher, and Flom LLP. He began his legal career as a law clerk to Judge John O'Meara in Federal District Court of the Eastern District of Michigan. Paul is also the founder of two technology companies, Front Door Insights and Front Door Direct. Paul was also a 2010 Democratic nominee for University of Michigan Board of Regents and named by Crain's Business Detroit to their "40 Under 40".
About Post Author