he Michigan Economic Development Corporation today announced Michigan Strategic Fund approval of a $1 million Michigan Community Revitalization Program incentive for a new community kitchen and renovation of Eastern Market in the City of Detroit.
"The renovation of this beloved Detroit landmark, with its new community kitchen, builds on Detroit's growing urban agriculture movement and will bring a new vitality to the Eastern Market district," said Gov. Rick Snyder. "This project will support entrepreneurship and small businesses, strengthen the community and create jobs in Detroit."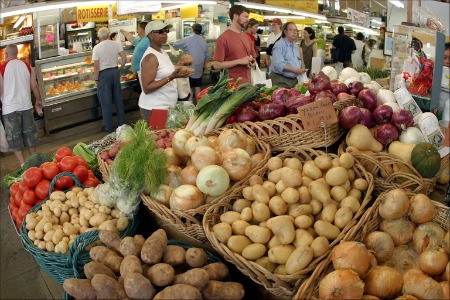 Eastern Market has been supplying Detroit-area residents with fresh food since 1891 and currently draws more than 40,000 visitors on a weekly basis. The Eastern Market Corporation has been awarded a $1 million Michigan Community Revitalization Program incentive to renovate Eastern Market's Shed 5, originally constructed in 1981, and add a new community kitchen that will support new, local food entrepreneurs. The project will include renovation of the functionally obsolete market shed structure and construction of the kitchen within the shed.
The completed project will serve as a regional hub for local food production, processing, distribution and retailing; an incubator for specialty food producers; a provider of culinary and nutritional education; a center for plant and flower sales, and public space for events. The project is expected to generate a total capital investment of approximately $8.2 million and add 36 full-time equivalent jobs.
"The Shed Five community kitchen project is one of our most pivotal projects," said Eastern Market Corporation President Dan Carmody. "It allows us to accelerate our work of incubating new food processing business and also allows us to increase our programing around health and nutrition to market customers."
The City of Detroit is supporting the project with bond revenue valued at $1.5 million and a Community Development Block grant valued at $330,000. The project has also received funding commitments from many foundations and a corporate sponsor, including the Ford Foundation, Erb Foundation, W.K. Kellogg Foundation, Kresge Foundation, Bank of America Charitable Foundation, DTE Energy Foundation, and Whole Foods Market.
"This renovation will further promote healthy and fresh food offerings around Detroit as well as serve as a catalyst for additional positive activity in the area," said MEDC President and CEO Michael A. Finney. "We are pleased to support the efforts of the entire community in making the project a reality."
The Michigan Community Revitalization Program provides grants, loans, or other economic assistance of up to $10 million to projects that will revitalize regional urban areas, act as a catalyst for additional investment in a community, reuse brownfield and/or historic properties and promote mixed use and sustainable development.
About Post Author