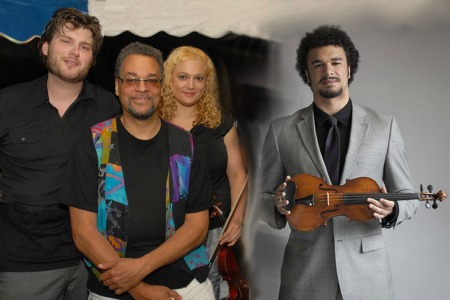 An enchanted garden behind a beautifully restored Italian Renaissance mansion will ring with jazz, classical, Argentine tango & Spanish music at the Palmer Woods Music in Homes Summer Solstice concert with the A. Spencer Barefield Super String Quartet.
On Friday, June 21, 8 pm, Kresge 2010 Arts Fellow, guitarist A.Spencer Barefield, leads three virtuosic young NY musicians, regulars on the stages of Lincoln Center and Carnegie Hall: violinists/violists Jannina Barefield Norpoth and Curtis Stewart, and bassist John-Paul Norpoth. They will perform Barefield's compositions, as well as works by legendary composers such as Paganini, Coltrane, Ellington, Monk, and Piazzola.
Jannina, who grew up in Detroit's Palmer Woods neighborhood, loves to return to home, especially to perform with her dad Spencer Barefield, an world-renown jazz artist. "Detroit is one of my favorite places to perform," proudly admits the 30-year-old, who performs internationally. Classical music was her focus growing up, while she served as concertmaster of the Detroit Symphony Civic Orchestra and spent summers honing her skills at the Aspen Music Festival and Izthak Perlman's Music Program.
Now, however, she increasingly incorporates jazz and improvisation into the music she plays with co-violinist Curtis Stewart in their NY string quartet PUBLIQuartet. With husband, bassist John-Paul Norpoth, she plays electric violin as he plays guitar in their indie rock band Hollands. Performing the works of contemporary and adventurous composers is their forté, but they all move across genres, challenged by both the traditional classical repertoire and innovative contemporary works. They have been premiering Barefield's compositions in New York City, and look forward to performing with the composer.
The A. Spencer Barefield Quartet will also present a free concert for children from 5-6 pm prior to the evening event. The location of the home is provided with reservations at palmerwoodsmusicforchildren.eventbrite.com
On Saturday, June 22, 8 pm, the Thornetta Davis ensemble will journey through the jazz world with a funk-fusion-R&B edge.
A reception with delicious food will be served during intermission, and the main floor of the home will be open for a tour prior to the concert. A spacious tent will shelter guests beneath sunshine and starlight.
Tickets, $40 or $35 each for groups of 10 or more, are sold in advance only and can be purchased online at palmerwoods.org or by calling 313-891-2514. The location of the home is provided to ticket holders. The concerts are special opportunities to hear world-class musicians who have Detroit-area roots.
Music of the Grand Finale – Summer Solstice weekend:
The grand finale weekend opens on Friday, June 21 at 8pm with the A. Spencer Barefield Super String Quartet. "Paganini to Piazzolla, Barefield & Beyond" will be presented by this adventurous ensemble, taking the audience on an enchanting journey from the classical period to the present day.
Arranging the music for the unusual combination of guitar, violin, viola and bass, the ensemble will perform compositions by Barefield, and selections from legendary jazz composers such as Joe Henderson, Dizzy Gillespie, Oliver Nelson, John Coltrane, Thelonius Monk, Duke Ellington, and Billy Strayhorn, as well as classical works by Spanish composers Enrique Granados and Manuel de Falla, Argentine tango composer Astor Piazzolla, and the challenging works of Niccolò Paganini. This will be an out-of-this-world Summer Solstice concert — performed by four virtuosic, super string players.
Described by JazzTimes as "an extraordinary guitarist/composer," A. Spencer Barefield has received numerous awards for composition and performance from National Endowment for the Arts, Meet the Composer, Kresge Foundation and others. He has toured and recorded in the US, Canada, and Europe, extensively as a leader, soloist, and with Lester Bowie, Roscoe Mitchell, Oliver Lake, Andrew Cyrille, Richard Davis and many more. Barefield's Creative Arts Collective has received international recognition for its innovative presentations, including its Creative Music at the Detroit Institute of Arts series and current Palmer Woods Music in Homes series.
Jannina Barefield Norpoth is known for her versatile musicianship, performing everywhere from Lincoln Center and Orchestra Hall to Radio City Music Hall and New York City's Mercury Lounge. She has soloed with the Detroit Symphony, and has been a featured performer alongside such acclaimed musicians as Itzhak Perlman, Emmanuelle Boisvert, Regina Carter, Marcus Belgrave, Beyoncé, Jay-Z, violinist/composer Daniel Bernard Roumain (DBR), Marcus Belgrave, Dave Young, virtuoso pianist/producer Mike Garson (Smashing Pumpkins, David Bowie), Foxy Brown, Sheila E., Boys II Men, Dionne Warwick, Anita Baker, Michael McDonald, Amy Grant, My Brightest Diamond, Alexi Murdoch, DM Stith and many others. She tours with Sphinx Virtuosi, including recent performances at Carnegie Hall and Kennedy Center, and is a member of PUBLIQuartet with Curtis Stewart.
A New York City native and graduate of the Eastman School of Music, Curtis Stewart has performed as a soloist with the National Repertory Orchestra, and at Lincoln Center with "Ljova." He has made chamber music appearances in the Rochester International Jazz Festival and at Carnegie Hall's Zankel Hall with the New York Chamber Virtuousi, holding his audiences "spellbound" with his "prodigious technique."(New York Amsterdam News) An avid teacher, he currently teaches at the Laguardia High School for Music & Art and Performing Arts. Curtis' eclectic background has led him to concerts in many different realms of music from the avant-garde jazz Vision Festival and MTV specials with Wyclef Jean and Yo La Tengo, to stints at the Jazz Gallery with Jason Lindner and Edmar Casteneda.
John-Paul Norpoth has performed ­under the batons of Itzhak Perlman, Kurt Mazur, Bright Sheng, Jaime Laredo, Otto Werner Mueller and others in numerous New York-area orchestras. He is a well respected educator in the Manhattan and Long Island area, and is also a singer/songwriter/guitarist for his indie rock band Hollands (Jannina plays electric violin).
On Saturday, June 22 at 8 pm, Thornetta Davis and her ensemble fill the stage. Detroit's "Queen of the Blues" is equally at home with R&B, soul, and the timeless Motown sound.
Her voice is at once commanding and deliciously smooth. Thornetta's seductive way with melody has made her a natural to perform as an opening act for stars as diverse as Ray Charles, Smokey Robinson, Etta James, Buddy Guy, Gladys Knight, Junior Wells, Lonnie Brooks, and Johnnie Johnson.
Thornetta is an extraordinary artist who has performed at the Ann Arbor Blues and Jazz Festival (with Bonnie Raitt) and the Lilith Fair at Pine Knob (with Sarah McLachlan). Even Kid Rock sings Thornetta's praises, after sharing the stage with her at the VH1 Vogue Fashion Awards at Madison Square Garden. She has also recorded vocals for CDs by Kid Rock and Bob Seger.
For more than two decades, Thornetta has been one of the driving wheels of Detroit's rich musical heritage. In 2001, she was inducted into the Detroit Music Hall of Fame. In 2002, the Detroit Music Awards honored her live record at the Music Menu as Best R&B/Blues Recording. She has continually won top honors from the Detroit Music Awards as outstanding blues/r&b vocalist. This concert is sponsored by City Living Detroit.
Palmer Woods Music in Homes presents outstanding live music, performed by internationally acclaimed musicians who either live in Detroit or have strong connections to the Metro Detroit area. The concerts are held in th
e magnificent mansions and unique historic homes in one of the City of Detroit's most beautiful and premiere neighborhoods, Palmer Woods to showcase its invaluable architecture, and promote historic preservation and positive living in Detroit. The 2012-2013 season was launched in December, followed by a jazz, classical or world music concert each month in a different magnificent home through the end of June.
The series is a collaboration of the nonprofit arts organization Creative Arts Collective (directed by Spencer and Barbara Barefield) and the Palmer Woods Association to support the arts, improve the quality of life and cultural environment in Detroit, and benefit the Palmer Woods neighborhood, as well as a number of other community charities.
Tickets at palmerwoods.org
Thank you to our presenters, Palmer Woods Association and Creative Arts Collective, and our sponsors: Be Well Medical Center & Skin Rejuvenation; Barefield DesignWorks; Blossoms Birmingham; City Living Detroit, DMC Sinai-Grace Hospital, WRCJ-90.9FM.