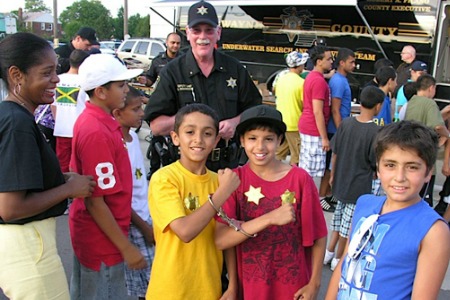 The 23rd annual golf outing to benefit the Wayne County Sheriff Youth & Senior Education Fund will be held Tuesday, June 18 at the Warren Valley Golf Course in Dearborn Heights.
Tee offs are scheduled at 7:30 a.m. and 1:30 p.m. with registration at 6:30 a.m. and 12:30 p.m. The event also includes lunch and dinner, an auction, prizes and trophies. Cost is $250 per golfer, $1,000 for a foursome or $100 for dinner only.
Since its inception in 1991, the fund has delivered hundreds of thousands of dollars in services for local charitable causes, reaching the greatest level of giving under the leadership of Sheriff Benny N. Napoleon, who serves as president of the volunteer board of directors. The mission of the 501 (c) (3) fund is to enhance the quality of life for youth and senior citizens through educational and safety programs.
The annual golf outing is the only fundraiser for the Youth & Senior Fund. With no salaries or administrative overhead, virtually all monies are distributed to area programs.
Programs and services include summer camps for youth, free first-aid kits, drug awareness education, File of Life (medical and emergency information for seniors),
handgun safety education (Trigger Lock program), a Youth Safety Fair, senior emergency cell phones, safety brochures and window locks. The fund also donates to local community and charitable organizations that support youths and seniors.
To reserve a tee-off time or make a donation, contact HYPERLINK "mailto:wcsysf@gmail.com" wcsysf@gmail.com or call 313-319-4033. Checks, payable to the Wayne County Sheriff Youth & Senior Education Fund, can be sent to 4747 Woodward, Detroit, Mi. 48201.
Further information can be obtained at HYPERLINK "https://www.SheriffConnect.com" www.SheriffConnect.com.