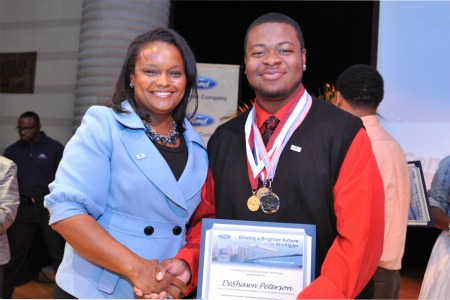 Ford Motor Company Fund will celebrate the achievements of more than 140 graduating seniors from 10 Detroit-area high schools at its fifth annual Blue Oval Scholarship program. The awards, ranging from $250 to $1,000, will be presented June 13 at 5:30 p.m. at the Charles H. Wright Museum of African American History.
Blue Oval Scholarships encourage students to stay in school and pursue post-high school educational goals. In the five-year history of the program, Ford has awarded more than $500,000 in scholarships to assist nearly 700 Detroit-area high school students with tuition, books, fees and other educational costs.
This year's recipients attend one of 10 area high schools: Central, Cody, Northwestern, Southeastern and Western – all in Detroit; and Harper Woods High School, Mt. Clemons High School, Pontiac High School, River Rouge High School and Ypsilanti High School.
"At Ford Motor Company, we understand the importance of acknowledging student achievement and supporting the next generation of leaders," said Jim Vella, president, Ford Motor Company Fund and Community Services. "The Blue Oval Scholarship program encourages high school students to pursue academic excellence so their dreams may become reality."
The Ford Blue Oval Scholarship program provides more than $1 million in scholarships to more than 1,000 students each year.
Ford Fund also recently announced a $1 million grant over two years for College for Creative Studies, located in the New Center, which includes scholarship funds for students from Henry Ford Academy: School for Creative Studies to attend CCS.