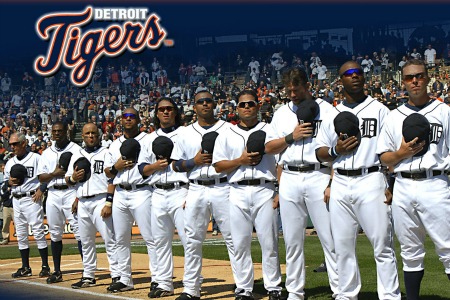 Vote Now to Honor a Military Hero at TributeForHeroes.com Through June 30th
Detroit Tigers Winner to be Recognized Before the 2013 MLB All-Star Game July 16th on FOX
Major League Baseball and 'PEOPLE' magazine today announced the 90 finalists, three per MLB Club, for the "Tribute for Heroes" campaign, a national initiative that recognizes veterans and military service members and builds upon MLB and 'PEOPLE' magazine's commitment to honoring our country's heroes. The three finalists for Detroit Tigers include Lee Armstrong, Cory Gritter and Rodney Williams.Fans are encouraged to visit TributeForHeroes.com to vote on their favorite stories through June 30th.
One winner from each of the 30 MLB Clubs will be included in All-Star Week festivities and recognized during the pre-game ceremony leading up to the 2013 All-Star Game at Citi Field on July 16th on FOX. A "Tribute for Heroes" winner will be featured in the July 22nd issue of 'PEOPLE,' which hits newsstands Friday, July 12th, the week of the MLB All-Star Game.
Lee Armstrong has dedicated his life to service. In the Navy, he served at numerous ships and aviation squadrons.. His military awards include two Navy Commendation Medals, two Navy Achievement medals, five Navy Good Conduct Medals, Navy Expedition Medal and various campaign and multi-service medals and ribbons. As a member of the Florida Highway Patrol Auxiliary, he received three commendations from the Florida Highway Patrol Director for volunteer service to his community and the State of Florida. He also volunteered tutoring special needs children through the Clay County Florida School system for six years. Today, Lee is Executive Director of the Lucas County Veterans Service Commission, which provides emergency financial and federal claims assistance for veterans. He is also President/Chairman of Honor Flight Northwest Ohio (an all-volunteer organization) which has transported over 1,450 veterans to Washington D.C. to see the memorials at absolutely no charge to them. He donates over 1,000 hours a year to the program. In addition, he is a Lucas County Auxiliary Deputy Sheriff and was a 2013 Regional Jefferson Award Finalist.
Cory Gritter, of Rockville, Maryland, was an accomplished athlete in high school, but passed up his dream of playing collegiate soccer to join the Marine Corps. He even achieved his dream of becoming a Marine Scout Sniper. During an early mission in Afghanistan, Cory suffered significant shrapnel wounds to his leg, torso, hand, and shoulder caused by an IED explosion. After three years recovering at Bethesda Naval Medical Center, he was recently discharged and founded a cyber security company to help transitioning veterans like him find careers. Despite his struggles, he has the desire to help others. He has volunteered with Toys for Tots and with his church, helping run activities for children with autism. Cory also recently completed the Marine Corps Marathon to raise money for Hire our Heroes.
Colonel Rodney Williams of Southfield, Michigan, has a list of achievements too long to list. Among them are two law degrees including a Juris Doctorate and a Masters of Law in Labor Law, graduate certificates from MIT and UCLA, work as a senior executive fellow at Harvard, and the distinction of being the first African-American Michigan Air National Colonel from Detroit. Before retiring, he was Director of Education, Joint Forces Headquarters, Michigan National Guard. Colonel Williams has worked extensively on programs and policies for military education and youth programs. He served as the National Youth Chair of the Tuskegee Airmen from 2009 until 2012, where he provided over 15 leadership programs for urban youth throughout the nation. In retirement, Colonel Williams is the Air Force Academy Liaison Officer, encouraging young people to attend the Air Force Academy. He was also appointed to the Detroit City Council Veterans Task Force to create jobs and educational opportunities for veterans.
Along with MLB and 'PEOPLE', a Guest Panel including General Peter W. Chiarelli (retired) and General John M. "Jack" Keane (retired) alongside MLB players Justin Verlander of the Detroit Tigers, Nick Swisher of the Cleveland Indians, Barry Zito of the San Francisco Giants, Jonny Gomes of the Boston Red Sox, Brad Ziegler of the Arizona Diamondbacks, Chase Headley of the San Diego Padres and Craig Stammen of the Washington Nationals assisted in the selection process for the 90 finalists.
The "Tribute For Heroes" campaign supports Welcome Back Veterans (welcomebackveterans.org, powered by MLB.com), an initiative of Major League Baseball and the Robert R. McCormick Foundation, which addresses the needs of veterans after they return from service. Major League Baseball has committed more than $23 million for grants to hospitals and clinics that provide post-traumaticstress disorder (PTSD) and traumatic brain injury (TBI) treatment to veterans and their families in a public/private partnership with "Centers of Excellence" at university hospitals throughout the country.
As part of its 2013 charity initiative, "PEOPLE First: Help America's Veterans," 'PEOPLE' is partnering with Welcome Back Veterans and three other nonprofit organizations that are committed to providing assistance to military men and women, and will feature them in multiple editorial stories in 'PEOPLE' throughout 2013.
Currently, Welcome Back Veterans funds programs at The University of Michigan, Rush University Medical Center, Duke University, Emory University, Weill Cornell in New York City, UCLA and the BostonRed Sox' Home Base Program at Mass General Hospital in Boston. These institutions are developing new programs and strategies to improve the quality, quantityand access to PTSD and TBI treatment for veterans, particularly those returning from duty in Iraq and Afghanistan.
About Post Author