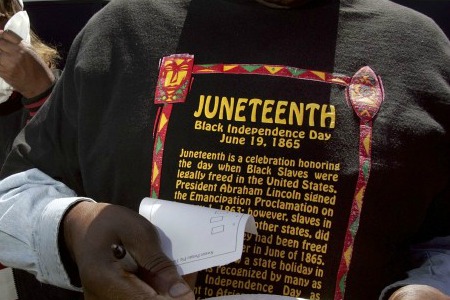 On June 19th, 1865, Union General Gordon Granger arrived in Galveston, TX and belatedly announced not only the end of the Civil War (two months prior) but the freeing of all slaves in accordance with President Lincoln's Emancipation Proclamation of 1863. Many believe the two and a half year delay in the news that slavery had been abolished was a deliberate act to keep the 250,000 Texan slaves working the plantations.
Now free, many left the plantation in search of family members and a new place to settle. Life however, as "free" people would continue to be bring hardships and struggles that would follow former slaves as well as generations of their descendants.
June 19th, became known as "Juneteenth" and was first celebrated in Texas and other southern states to commemorate the end of slavery. The civil rights movement of the '50's and '60' s brought a resurgence of interest in the history of African-American struggles and in the celebration of Juneteenth. Texas made Juneteenth an official holiday in 1980, with many other states following suit. It is now widely celebrated as "freedom" day to promote African-American culture and history.
For more information, visit www.juneteenth.org