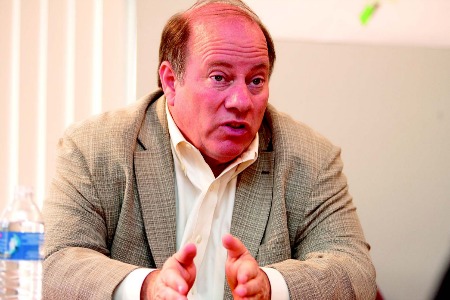 Despite the 2-1 vote of the Detroit Election Commission to retain mayoral candidate Mike Duggan on the ballot, his challengers succeeded in the first round of a court battle to disqualify him from the August primary ballot.
Wayne County Circuit Court Judge Lita Popke ruled Tuesday afternoon in favor of mayoral challenger Tom Barrow and activist Robert Davis that Duggan should be removed from the ballot in the upcoming primary election because of his residency.
"The court finds that the Detroit City Charter's provisions regarding the qualifications for elective office are clear and unambiguous. The candidate must have been a qualified and registered voter in the city of Detroit for one year before he filed for office," Judge Popke said in her ruling.
Duggan's campaign immediately promised to appeal the ruling, stating, "This ruling is contrary to the opinion of every election lawyer who has looked at the case. We're reviewing our legal options with our lawyers and will make a decision shortly on how we'll proceed."
Davis, the activist who has initiated many legal fights against the state, insisted the latest ruling is according to law.
"It's quite evident Mr. Duggan didn't meet the requirements as set forth in the Detroit City Charter," Davis said. "The people should send a very loud message for Mr. Duggan to go back to Livonia and run for mayor there. I presume Mr. Duggan will appeal. We're prepared for an appeal. I am confident that her ruling will be upheld and the will of the people of Detroit will be upheld."
Candidate Barrow has maintained that Duggan's residency as a technical flap disqualify him from the August ballot, calling Duggan's campaign "another suburban transplant taking over the reigns of the city. We already had a failed experiment with Dave Bing and the parachuting in of a Livonia mayor only works for Republican money interests, not everyday Detroiters."
When the election commission ruled earlier in favor of Duggan, his campaign lawyer, Melvin "Butch" Hollowell, in an interview with the Michigan Chronicle said the issue is "not really a close legal question," because Duggan has met the requirements of the new charter.
"I think the election commission did the right thing," Hollowell said. "This was about having access to the ballot which is an important part of election law all around the country."
This is a major setback for Duggan, because while candidates are campaigning and raising money, the Duggan campaign will be locked up in a legal battle without knowing what the ultimate verdict will be.
Detroit Election Commission members Detroit City Clerk Janice Winfrey and interim corporation counsel Edward Keelean voted for Duggan to remain on the ballot while the third member, City Council President Charles Pugh, opposed.
E-mail bthompson@michronicle.com.
About Post Author