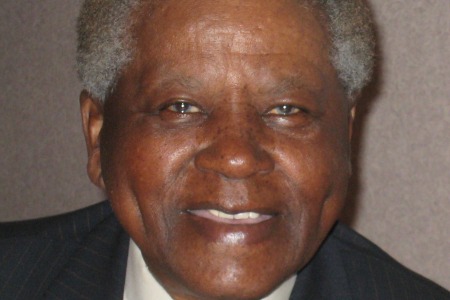 Proceeds to Benefit Local Veterans Organization
FLINT – For over 50 years Sam Williams has earned his stripes in radio and will soon be recognized for his broad career on the airwaves. The Sam Williams' Sunday Morning Gospel Show is touted as the longest running and highest-rated radio program in Flint. On Saturday, June 15th, Alternative Veterans Solutions will present a Gospel Music Celebration Honoring Sam Williams beginning at 6 p.m. at The Whiting in Flint, MI. Tickets are $30.
Up to 1,500 local government and community leaders, dignitaries, church clergy and their congregations along with citizens and guests from the Flint, Saginaw, Pontiac and Detroit areas will convene for this one-of-a-kind, highly anticipated fundraiser celebration honoring Sam Williams.
This long-awaited tribute presented by Alternative Veterans Solutions, will be a riveting gospel concert and awards ceremony featuring local church choirs, quartets, praise dance and mime groups and more. There will a special guest performance by the sensational Gospel Music Recording Artist and Composer J.J. Hairston & Youthful Praise singing popular hits such as "After This," and "I Am."
MESHELLE, known as "The Indie-Mom of Comedy," who pioneered the role of "Michelle" portrayed by Kimberly Elise in the film adaptation "Woman Thou Art Loosed" written by TD Jakes and Terry McFadden, will serve as Mistress of Ceremonies for the musical celebration. Flint native Emuell Tedford will serve as the musical director.
Other gospel music performances will take place featuring local and nationally-acclaimed individual and group talent some include:
· The Shepards (est. 1968) – The Shepherds recorded "Live In Durham NC" on Worldwide records in 2000; Amen records in 2002 and recorded "Trilogy Live in Augusta GA" where the CD placed them on the billboard top 40 again landing at # 20. "New Beginnings" is the first CD release on their new label Strawberry Vinyl Records.
· Albert Strickland & Cho'zen – The Flint-based choir and former 2012 contestants
in the Verizon How Sweet the Sound – gospel choir competition. The group will celebrate its 20th anniversary this month.
· Local Pastor Tonya Bailey of Hand of God Ministries will deliver a rousing musical performance during the Gospel Music Celebration event. Pastor Bailey will soon release her new CD in 2013.
In addition to the Gospel Music Celebration, the inaugural Sam Williams Gospel Music Hall of Fame Award will be given during the event. The hall of fame award will be distributed annually to a notable community leader, pastor, musical director or outstanding choir who has contributed significantly to the gospel music industry. Ebenezer Mime Ministry and Grace Emmanuel Praise Dancers will also perform during this spectacular tribute.
Proceeds from the Gospel Music Celebration Honoring Sam Williams will go towards the Alternative Veterans Solutions, a local nonprofit organization, founded in 2010 to assist veterans
returning home from active duty, homeless veterans and those at-risk of becoming homeless by providing basic amenities and help to connect those individuals with the training, education, counseling and rehabilitative services they need.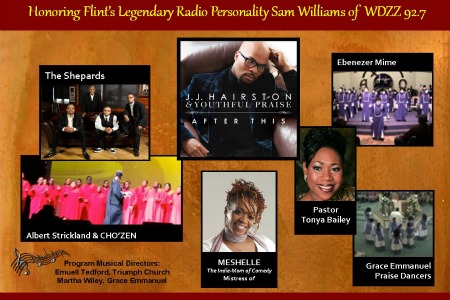 Tickets are available at The Whiting Box Office Ticket Center located at 1241 E. Kearsley, Flint, 810-237-7333; and the Music Planet, 517 W. Carpenter Rd., Flint, 810-787-0099. If you would like to become a sponsor, or place an ad in the program book, contact 313-402-5722.