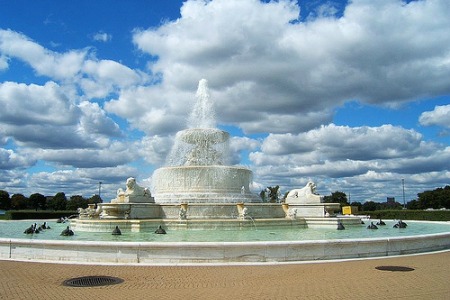 On Friday, June 7, 2013, from 6:00 pm to 9:00 pm, the Belle Isle Conservancy is hosting an event to fund the replacement of Pewabic tiles to Belle Isle Park's historic Scott Fountain. Tickets can be purchased at four different levels, ranging from $50 to $200. Guests are invited to enjoy wine and hors d'oeuvres as they shop Pewabic Pottery's Home and Garden Show.
Special guest, John Gallagher, journalist and author of Revolution Detroit: Strategies for Urban Reinvention, will be on hand to sign and sell his book.
Guests need to RSVP for the event by June 4th and can do so at www.belleisleconservancy.com or by calling (313) 331-7760.
The event will take place at the Pewabic Pottery, 10125 Jefferson Avenue East, Detroit, Michigan. Funds raised from the event will help restore the Pewabic tiles to Scott Fountain. The Scott Fountain Pewabic Tile Fund was established in 2011 after the tiles were damaged during the repair of the fountain's basin. Scott Fountain has been a solid symbol of Belle Isle since 1925. The original tiles were designed by Pewabic's founder, Mary Chase Perry.
For more information, contact the Belle Isle Conservancy, www.belleisleconservancy.org, (313) 331-7760