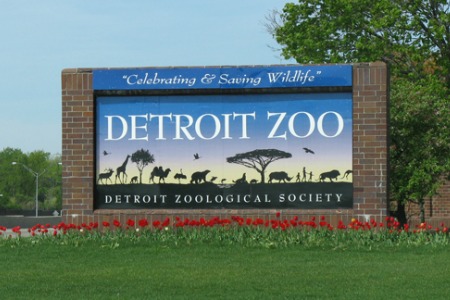 Former Detroit Lion Lomas Brown and Detroit Lion running back Joique Bell Attend
to Help Fight Kidney Disease
ANN ARBOR, MICH.—(June 4, 2013)—On Sunday, June 2, the National Kidney Foundation of Michigan (NKFM) held its annual Kidney Walk at the Detroit Zoo. With over 4,000 people in attendance, the Kidney Walk raised $300,000 to support the NKFM's prevention programs and patient services that are offered to the more than 900,000 Michigan residents living with kidney disease, and the many more at risk.
Walkers of all ages lined up at 8:30 a.m. to walk the 1.5-mile route through the Zoo. Huel Perkins, Anchor at FOX 2 Detroit, welcomed walkers as the event's Master of Ceremonies. Former Detroit Lion Lomas Brown and OHM Advisors President John Hiltz were the Honorary Co-Chairs of the event, and kicked off the Kidney Walk by cutting the ceremonial ribbon to officially begin the event. Detroit Lions running back Joique Bell and his sister, Ambie, greeted fans and shared Ambie's story of living with kidney failure and dialysis.
Throughout the day, kids visited the Radio Disney entertainment area for face painting, dance contests, giveaways, and music and also enjoyed noodle art and noodle jewelry with Noodles & Company. Kidney patients were offered free healthy food, massages, NKFM tote bags, and other fun gifts in the Champions Tent. All walk participants received free food and refreshments.
Major Kidney Walk sponsors included Meijer, Fresenius Medical Care, Greenfield Health Systems, OHM Advisors, and many other local businesses.
For more information about the NKFM's patient services and prevention programs, to learn more about the NKFM's other Kidney Walks, or to make a donation, call (800) 482-1455 or visit www.nkfm.org. You can also follow the NKFM on Facebook, Twitter, Instagram, and YouTube at @KidneyMI.