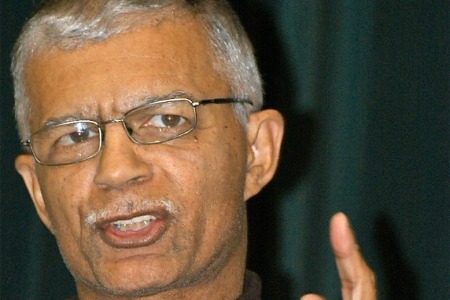 Detroit's own Chokwe Lumumba, a man who led protests in the early days of the Civil Rights Movement to force institutions like Wayne State University Law School to implement an affirmative action program for Black law students, elected mayor of Jackson, Mississippi, on Tuesday night.
For Lumumba, winning 85 percent of the vote against three independent candidates after running on the Democratic Party ticket, this is the climax of a long and controversial career of the Detroit-born attorney who in the past has defended figures such as Tupac Shakur and Asata Shakur.
On his Facebook page, the 65-year-old Lumumba declared, "Thank you, Jackson. None of this would be possible without faith and your support. I've said it before and today it is still true, this is not my victory. This is the people's victory. Together we will make Jackson rise."
Lumumba, a former member of the Jackson City Council who has been interviewed numerous times by this writer in the last decade, has been one of the most outspoken African American lawyers in the nation. He often takes his crusade against injustices in society to the courtroom, sometimes clashing with judges during trials. He is a reference in the African American nationalist movement and a leader in groups like the Republic of New Afrika and other progressive Black organizations.
In 2005, the Mississippi Supreme Court handed down a decision suspending Lumumba for six months from the Mississippi Bar for making inappropriate remarks to Leake County Circuit Judge Marcus Gordon. He also served three days in jail and paid a fine.
His supporters and other activists cried foul, claiming he was getting a raw deal and that the punishment was too severe.
"I have read the Supreme Court's decision. I am unconvinced that their decision is fair and just. I sense that other reasons underlie the Court's decision. Those might include Lumumba's political beliefs, his work in the community throughout the nation on behalf of Blacks, his outspokenness and his courage," June Hardwick wrote in the Jackson Free Press at the time.
The opinion piece in support of Lumumba added, "Lumumba served three days in jail. He paid fines. Why suspension? Why Lumumba? Again, given his political convictions, given his audacity to speak truth loudly, given his self-sacrificial work for the community over the past 30 years, one might reasonably conclude that Judge Gordon, the Bar and the Supreme Court collectively have more of an issue with Chokwe Lumumba the activist rather than Chokwe Lumumba the attorney."
E-mail bthompson@michronicle.com.