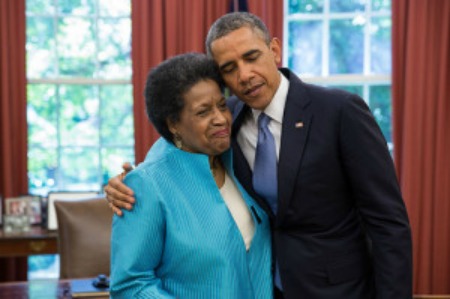 June 12, 1963, Civil Rights Activist Medgar Evers was assassinated for his efforts to overturn segregation in Mississippi. Fifty years later, President Obama met with Evers widow, Myrlie Evers, and the Evers children and grandchildren in the Oval Office before the official ceremony commemorating his death.
Valerie Jarrett Senior advisor to President Obama contends the Presidents meeting with the Evers family "was a deeply poignant moment particularly timed on the same day the President appointed Judge Robert Leon Wilkins to the DC Circuit." Jarrett during the phone interview said it is "a special day!" She explains, "To see Mrs. Evers and her family in the Oval Office, spending a private moment with the President demonstrates 'that the moral arch of the universe is long but it does bends towards justice,' to quote Dr. Martin Luther King."
According to Jarrett, President Obama told Mrs. Evers the death of her Husband "'turned tragedy into a rallying call.' The fact that he is buried in Arlington [National] Cemetery demonstrates that he is a warrior of justice." Medgar Evers is a World War II Veteran who fought in Normandy, France and in Germany during the war.
The Oval Office meeting with the President and the Evers family was punctuated by a gift. Mrs. Evers acknowledged her son, James Van Evers, presented President Obama with two black and white portrait originals. The portraits were inscribed. Jarrett said one portrait was of "Rosa Parks" and the other was of a "Coretta Scott King with Betty Shabazz and Myrlie Evers," three of the widows of the Civil Rights movement.
Jarrett says the President is planning on having the portraits mounted and placed in his "private office." It is not known if the President will hang the portraits in his private office off of the Oval Office or in his private office in the residence. Listen to my full interview with Valerie Jarrett:
This is Myrlie Evers second meeting with the President this year. She spoke with the Obama's earlier this year as she delivered the invocation at the second Inauguration of President Barack Obama in January 2013.
Following her meeting in the Oval Office with President Obama, I had the opportunity to speak with Myrlie Evers outside of the White House:
About Post Author