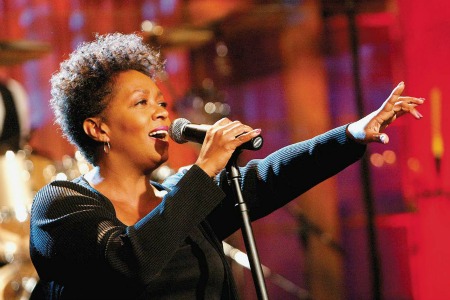 When the city is Detroit and the subject is music, the first thing that comes to mind is Motown. That is not surprising considering the fact that Motown is almost as synonymous with Detroit as cars, and its impact is never-ending.
However, what the city has produced in the past and has to offer in the present goes far beyond the awesome sounds that emanated from Hitsville U.S.A. on West Grand Blvd.
The genres include everything from R&B, jazz, gospel and techno to rock, blues, rap and pop…and more.
This is not a revelation, but the subject is not explored as often as it should be. And in this story we are going to do a lot of back-and-forth-and-back-again "genre jumping."
DETROIT HAS produced a type of royalty in the form of Aretha Franklin who became the undisputed Queen of Soul in 1967, a title that will be hers forever. And the classic hits, including "Respect," "Chain of Fools," "(You Make Me Feel Like) A Natural Woman" and "Think" speak for themselves.
Although she returned to her gospel roots in later years, Della Reese emerged in the 1950s as a favorite on the nightclub circuit and on the top television variety programs of the time. Many people still remember her biggest hits, "And That Reminds Me" and "Don't You Know."
Speaking of clubs, Freda Payne continues to work some of the finest ones regularly. Actually, she started out in jazz, but began taking a second look at R&B after hearing records by artists like Martha & the Vandellas. Payne had numerous hits in the '70s, but her signature song is the classic "Band of Gold."
Freda's younger sister, Scherrie Payne, sang with the Glass House, then was recommended for the Supremes by Lamont Dozier of the famed Holland-Dozier-Holland songwriting team. She replaced Jean Terrell in 1973.
IN RAP MUSIC, no one could have predicted that a White man from Detroit's east side would go on to become one of the magastars of rap/hip-hop. But Eminem did just that and his albums, with much of the content being in a humorous, sometimes "adults only" vein, have had a huge impact.
Kid Rock, another White superstar rapper, was born in Romeo, Michigan, but the Detroit association is strong.
Other rap acts from Detroit: D12, Obie Trice, Slum Village, Insane Clown Posse and J Dilla.
Detroit has given the country (and the world) some of the finest jazz ever played or recorded. The flamboyant rock band KISS famously described Detroit as "rock city." Well, it is also "jazz city."
The list of jazz artists from "the D" is, to say the least, impressive, and includes, among many others, Milt Jackson, Kenny Burrell, Marcus Belgrave, Earl Klugh, Yusef Lateef, Donald Byrd, Sonny Stitt, Ron Carter, Paul Chambers, Alice Coltrane, Geri Allen, Sir Roland Hanna, Dorothy Ashby, James Carter, Tommy Flanagan, Harold McKinney, Elvin Jones and Roy Brooks.
KEM RECORDS on the Motown label but does not seem like a "Motown artist," but, then again, "Motown" is just a label now anyway. What was really "Motown" ended when the company was sold. KEM's smooth, jazzy vocals have created a large and loyal following. His albums have been certified Platinum and Gold.
The Spinners were with Motown but didn't hit their stride until they moved on — to Atlantic at the recommendation of Aretha Franklin. They knew they would never be any more than a secondary act at Motown. At Atlantic it was one national smash after another.
The 1950s and early 1960s were a fertile period for Detroit R&B, producing the great Little Willie John ("Fever," "Talk to Me, Talk to Me") and Hank Ballard ("Work With Me Annie," the original version of "The Twist") and the Falcons ("You're So Fine," "I Found a Love") as well as such (usually not recognized) notables as Nolan Strong, Andre Williams, the Royal Jokers, the Five Dollars and Nathaniel Mayer.
A BIT LATER in the '60s, Little Carl Carlton, just starting high school, scored with "Competition Ain't Nothin.'" That record and others made the national charts, but much bigger later on were "Everlasting Love" and "She's a Bad Mama Jama (She's Built, She's Stacked)." By then he was "Carl Carlton."
In rock, Mitch Ryder & the Detroit Ryder found national success with some of the highest energy, soul-fused rock ever made.
And Bob Seger (born in Dearborn, but that's close enough!) became a legend with a long string of classic hits, including "Night Moves," "Old Time Rock & Roll" and "Hollywood Nights."
Other Detroit or Metro Detroit rock stars include the Stooges (featuring Iggy Pop), the MC5, the Amboy Dukes (featuring Ted Nugent) and Alice Cooper.
SILKY SOUL is the specialty of Anita Baker, and the influence of Sarah Vaughan, her favorite singer, is obvious. We were and continue to be "caught up in the rapture" whenever we hear Anita Baker gems like "Sweet Love," "Just Because" and "Giving You the Best That I Got."
George Clinton's wildly imaginative "P-Funk" music was something altogether different. Onstage, Clinton, Parliament and Funkadelic were a torrent of funky grooves, spaced out lyrics and dazzling attire. Perfect examples of P-Funk: "Atomic Dog," "One Nation Under a Groove," "Flashlight."
DETROIT IS also known non-officially as the Gospel Music Capital of the World and with good reason. In addition to being the home of the first family of gospel, the Winans, the Motor City gave the industry the Clark Sisters, J Moss, Vickie Winans, Thomas Whitfield, Vanessa Bell Armstrong, Byron Cage, Fred Hammond, Mattie Moss Clark and many more.
Michael Henderson was playing bass professionally while still in his teens. Later he was asked to join the Miles Davis band by the iconic Mr. Davis himself. That was great, but later on Henderson wanted more. No one knew that he could sing and he was excellent on his hits, including "In the Night-Time," "Be My Girl" and the duets with Phyllis Hyman and Jean Carne.
A lot of great blues artists are from Detroit as well. One of the giants is the great singer/guitarist John Lee Hooker who had a major influence on many others in that field. Alberta Adams, Bobo Jenkins, Thornetta Davis and Eddie "Guitar" Burns are also part of the history of Detroit blues.
THE DRAMATICS were as "bad" as the Temptations. Incredible vocals, slick moves and some of the best R&B songs ever recorded, among them "Whatcha See Is Whatcha Get," "In the Rain," "Stop Your Weeping," "Door to Your Heart" and "Hey You! Get Off My Mountain."
Jackie Wilson, known as "Mr. Excitement," was one of the monumental talents in the history of R&B and rock and roll. He was a dynamic performer gifted with an extraordinary voice. His song catalogue, including "Lonely Teardrops," "To Be Loved," "(Your Love Keeps Lifting Me) Higher and Higher," "Baby Workout," "Danny Boy" and "Whispers (Gettin' Louder)," is amazing.
ANOTHER GREAT soul man from Detroit, but with a different groove, was Wilson Pickett. No one other than James Brown could match Pickett's "soul scream," heard so prominently on his blockbuster hits such as "In the Midnight Hour," "Land of 1000 Dances," "Funky Broadway" and "Mustang Sally."
Detroit is also where techno started. This form of dance music, which is heavy on electronics, became so popular that a Techno Festival could take over the riverfront and be attended by thousands from near and far. Derrick May, Kevin Saunderson and Juan Atkins are the key techno figures.
The late '70s to the mid '80s was a fruitful period for Detroit bands. So many of the them had national hits, including Brainsto
rm ("Lovin' Is Really My Game"), Chapter 8 ("Ready For Your Love"), Nature's Divine ("I Just Can't Control Myself"), Five Special ("Why Leave Us Alone") and One Way ("Cutie Pie," "Lady You Are").
THIS IS just part of the story of Detroit music. Telling it is its entirety would require the writing of a book, one with many chapters.
Some of the other artists who must at least be mentioned: the Detroit Emeralds ("Do Me Right," "Feel the Need in Me"), Keith Washington ("Kissing You"), Laura Lee ("Dirty Man," "Women's Love Rights"), Marv Johnson ("You Got What It Takes"), Millie Scott ("Every Little Bit"), Aaliyah ("Are You That Somebody?"), Dwele ("Find a Way"), ("Alicia Myers ("I Want to Thank You"), Erma Franklin ("Piece of My Heart") and Cherrelle ("Everything I Miss at Home," "I Didn't Mean to Turn You On").
About Post Author