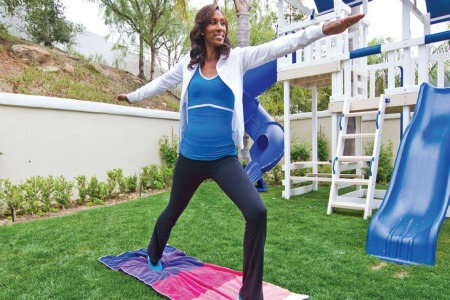 Playing together outdoors is the perfect way for families to bond while staying active and fit, but when seasonal allergies come into play they can keep many families on the sidelines. Allegra is setting out this season to show people there's no reason to suffer if you have the right relief, and has teamed up with basketball star Lisa Leslie to share fun, affordable workout tips that help families enjoy the outdoors even during allergy season.
"As an athlete and a mom, there's nothing I enjoy more than getting outside to shoot
oops or run around with my kids, but when our allergy symptoms act up it can keep my whole family indoors," says Leslie. "I am thrilled to show families that with the help of Allegra their seasonal allergies don't have to stop them from being outdoors and having fun."
Lisa shares how to utilize simple household items and a little imagination to transform any backyard or outdoor space in to a family fitness center:
•Scavenger Hike: Turn a family hike into a scavenger hunt; come up with a fun has partnered with Nature Made® in support of their VitaMelts™ line. "Nature Made VitaMelts come in great flavors like juicy orange and melt smoothly in your mouth without water which provides an enjoyable vitamin experience," says Grotto. "Plus they come in a handy, portable flip-top pack which can fit perfectly in your gym bag, or work bag, an added convenience factor on days you may not be eating as properly as you should."
Stay active and enjoy the sunshine. Even if it is minimal, find time to move each day while you're at work; take the stairs instead of the elevator or go for a ten minute walk around the block.
List of challenges like climbing over a log, finding a pinecone, skipping down an entire trail or racing to the birch tree and back.
•Driveway Drills: Using chalk and cardboard boxes you can create your own basketball court on the driveway. Have the kids draw free throw lines and see who can bounce or throw the ball into the card board box "hoop."
•Time for Fun: Use your kitchen timer or a stopwatch to time kids in sprints, relays and jumping jack sessions; record times on a dry erase
block. An added benefit of being outdoors, even for a short amount of time, is the exposure to sunlight, which helps skin produce vitamin D3. Unfortunately, many food sources do not provide nearly enough vitamin D to meet dietary recommendations. Grotto recommends a vitamin supplement such as Nature Made VitaMelts Vitamin D3 in a creamy vanilla flavor.
About Post Author