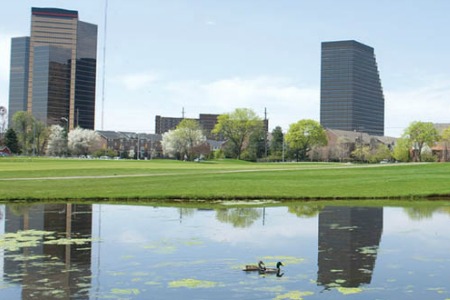 (SOUTHFIELD, Mich.) – The city of Southfield was recently awarded $60,000 from an Environmental Protection Agency (EPA) grant for environmental investigations of contaminated land to determine if it can be redeveloped.
The funds are part of a $600,000 EPA Assessment Grant the Oakland County Brownfield Coalition (OCBC) received to conduct investigations for contamination to clear the way for future development of brownfield sites. Farmington Hills, Ferndale, Hazel Park, Madison Heights and Pontiac also each received $60,000 with the remaining $240,000 to be distributed to other Oakland county communities.
"These grant funds will assist Southfield in identifying potential sites that can be redeveloped and put back into productive use – spurring economic growth and investment in the City," commented Mayor Brenda Lawrence. "The program also provides attractive incentives to prospective buyers and developers by covering the cost of assessments thus reducing the risk associated with unknown environmental conditions."
Brownfields are defined as abandoned, idle, or under-utilized industrial and commercial properties where expansion or redevelopment is complicated by real or perceived environmental contamination. Regardless of their classification, all brownfield properties face economic impediments to reuse and redevelopment.
Grant funds are used for assessment of sites believed to be contaminated by hazardous (non-petroleum) substances, including identification, profiling, inventory and prioritizing of brownfield properties.
In 2008, the City received a direct allocation of $200,000 from the EPA which was used to conduct environmental investigations at eight sites throughout the city that investors were seeking to redevelop, including: 26500 Northwestern Hwy (800-LawFirm)–completed; 30161 Southfield Road (McDonald's)–completed; 23600 Telegraph Road (Maxitrol) –completed; 22800 W Eight Mile Road (Advanced Auto Recyclers)–rehab project currently under construction; 22100 Telegraph Road (Shaw Electric) – completed; 24541-24555 W Twelve Mile (Shops on Twelve Mile)– proposed development currently at Planning Commission; 25250 Evergreen Road & SE Adjoining Parcel (former People's State Bank) –still in planning stage; and 20830 Rutland Drive (Adult Rehabilitation Facility)–rehab project currently under construction.
The City of Southfield Brownfield Redevelopment Authority will offer developers and investors the opportunity to access grant funds for Phase I or II environmental investigations that are required before brownfield properties can be purchased and redeveloped. The City's Brownfield Redevelopment Authority can assist businesses in redeveloping vacant or underutilized industrial sites that may require environmental cleanup as part of Southfield's continuing effort to address urban core industrial redevelopment.
For more information about brownfield redevelopment or other economic development opportunities in Southfield, contact Business Development Manager Rochelle Freeman at (248) 796-4161 or visit www.cityofsouthfielld.com.
About Post Author