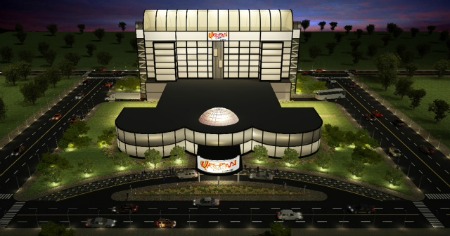 One-of-a-kind Hospitality & Entertainment venue offers Detroit jobs, inspiration
The most successful business ventures are the right blend of careful market research, smart timing, solid resources and clear vision. Entrepreneur Francois Wulu-Demonique, president and CEO of Urban Café corporation in Detroit, hopes to bring these elements together to create a 21st century hotel, conference and entertainment center–the first of its kind–designed and built exclusively through the talent of Detroit's African American population.
"Detroit is unique. It is home to the brightest minds, strongest skills and most dedicated efforts. A Development 10 stories High & over 100 thousands square feet From ground breaking to completion will be a "Yes We Can" because Never in the city of Detroit history with such a large African American population have we seen a development project being built by a majority of African American construction workers.
This project will serve as an inspiration, especially for Detroit's Youths and aspiring Entrepreneurs visiting a construction site seeing people that look like them work on such a big development project in a way no other New facility has before, we are creating this special employment also as an documentary that will inspire so many others across this nation" says Demonique, a 25-year Detroit resident and award-winning urban development professional who was born in Monrovia, Liberia. "Through "Urban Café Detroit", Detroit is poised to become an even greater force as an entertainment city. "So for those who may say we have enough hotels rooms that are empty now, why another? I say lets build for Detroit future and anticipate more for city.
Scalable to the land site on which it will be built, the "Urban Café Detroit" will incorporate a 100 suites hotel, a 1,500-seat multipurpose theater, a 2,000-guest banquet facility, and a themed upscale restaurant and lounge. Perfectly positioned to accommodate large and small conventions, out of town tourists and local diners and entertainment seekers, the "Urban Café Detroit" will serve as a destination venue that will boost tourism in Detroit, stimulating revenue, prosperity and excitement for the city.
Designed to educate and amaze visitors, the "Urban Café Detroit" themed restaurant will delight diners with the finest in world-class cuisine. With an all-glass design, the peak of the nine-story structure will feature a sky bar that will show off Detroit's distinctive skyline, offering panoramic views of Detroit's beautiful downtown, the Detroit River and nearby Windsor, Canada.
Each hotel suite will represent a distinct world nation, showcasing that country's culture, art and history. "Guests can explore all aspects of a country they may know nothing about," says Demonique, who expects the venue to welcome a half million guests each year. "Each suite will be like a tiny documentary about that nation, showing guests what life is like in that country. In this way, we are building valuable partnerships and enhancing an understanding of dozens of nations across the world." five ambassadors from 5 countries who have committed their country commitment to invest a million dollar each per suite in our development and we are looking to form this partnership 100 countries.
Using an undisclosed third party negotiations working in our behalf, Several sites are being considered for the development, including the former Tiger Stadium area at Michigan and Trumbull, the historic Eastern Market district, Detroit's riverfront and Detroit Economic Growth Corporation to launch the project. "We anticipate the project to cost between $75 and $100 million and take two years to complete. We're currently in the land acquisition stage and are actively looking for investors," says Demonique, adding that the ideal investor would be an athlete, entertainer or venture capitalist interested in profiting from a high-profile project. "The potential for success here is enormous, well worth an investor's interest and commitment," he says.
The "Urban Café Detroit" development, by design, will attract jobs, attention and financial prosperity back into the business district, reversing the downturn caused by an abrupt switch from development to acquisition in African American communities across the country, says Demonique. "This was when we put our talent as a people aside," he says. "It's been 50 or 60 years since then and we need to refocus our attention and tremendous talents, rather than waiting for someone else to build and develop our neighborhoods."
Once established in Detroit, Demonique plans to spread the Urban Café concept to other cities across the country. "By proving the success of this concept in Detroit, we'll then develop similar projects in Atlanta, Washington D.C., Chicago and Cleveland, other cities that have a high African American population," he says.
A project that began as vision and was boosted by a rally cry from President Obama is on track to become a successful, inspiring centerpiece of Detroit life, says Demonique. "When Barack Obama became president, he advocated for people like me to take my vision to the next level," he says. "I felt personally inspired about all the growth that is possible, and I put my passion for development into the concept that has become "Urban Café Detroit". Now is the perfect time to move "Urban Café Detroit" forward."
Contact "Urban Café Detroit" at 313.340.0330, our web: at urbancafedetroit.com or email ucd@urbancafedetroit.com.