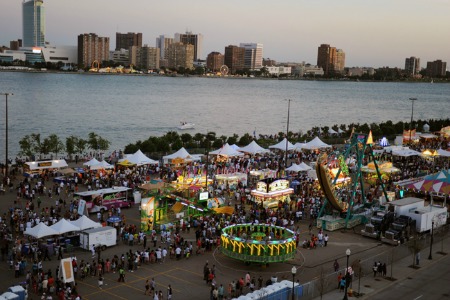 The Detroit RiverFront Conservancy announced today that General Motors is returning as title sponsor of the signature River Days festival happening along the Detroit Riverfront June 21 – 23, 2013. The lead sponsorship from GM comes as the Conservancy celebrates its 10-year anniversary. The event's new name, GM River Days presented by Soaring Eagle Casino & Resort, reflects GM's tremendous support for the annual riverfront festival in Detroit.
"We are incredibly fortunate to have General Motors as a champion of River Days and a committed corporate partner that has supported the Conservancy's efforts since the beginning," said Matt Cullen, Chairman, Detroit RiverFront Conservancy. "Our many great public and private partners have made it possible for us make significant progress on the riverfront as we continue to develop public access and serve as an anchor for economic development."
"General Motors is proud to continue its longtime support of the Detroit RiverFront Conservancy and return as the title sponsor of River Days," said Tim Mahoney, Chief Marking Officer, General Motors. "We applaud the Conservancy for its remarkable work over the last decade that has led to miles of beautiful riverfront for our community and employees to enjoy and celebrate during this spectacular festival."
"General Motors has been an incredible partner to the Detroit RiverFront Conservancy over the last decade," said Faye Alexander Nelson, President & CEO, Detroit RiverFront Conservancy. "GM was instrumental in the launch of River Days in 2007 and we are thrilled to welcome them once again as our title sponsor in this milestone year for the Conservancy."
Headlining National Musical Acts
Organizers also announced one of the most legendary musical line-ups in the festival's history on the Michigan Lottery Stage, featuring The Guess Who, The O'Jays and George Clinton & the P-Funk All Stars. The Guess Who will get the crowd rocking to some of the most memorable songs of the classic rock era on Friday Night, while the mighty O'Jays, who recorded nearly a dozen No. 1 hits and recently celebrated five decades in the music business, will sing their timeless hits on Saturday night. On Sunday evening, George Clinton & the P-Funk All Stars, the group that revolutionized R&B during the 70s, twisting soul music into funk, will close out the festival in absolute grand style.
Three local Detroit bands were selected as opening acts on the Michigan Lottery Stage throughout the weekend including SuperLast, Soul Preacha's featuring Marcus Cole & Mark A'lleven and The Infatuations. In additional, the Third New Hope Baptist Church in Detroit is programming a fantastic Gospel Showcase on Sunday afternoon featuring J Moss and Anita Wilson. A full music line-up of more than 40 musical acts and kids' stage entertainment will be released early next month.
This year's River Days features exciting programming and the return of festival favorites, including:
Detroit River ArtScape, an open art competition, is returning after a colorful debut in 2012 with more featured artists and increased cash awards totaling $17,000 thanks to the generosity of the Knight Foundation. This year, the artwork from the 15 finalists will be on display along the RiverWalk, beginning Monday, June 17 through Sunday, June 23. In addition to a professional juror panel, the general public and River Days attendees will have the opportunity to also vote for their favorite artist through a special text messaging program, courtesy of ePrize.
The Michigan Department of Natural Resources (DNR) will expand their involvement in the festival with more than 40 activities and programs that will take place inside the William G. Milliken State Park & Harbor, including campfire and s'more making exhibits. The DNR's experts will be on hand to offer instruction on recreational activities such as fishing, birding, and disc golf, and provide demonstrations about camping, hiking, biking, paddling, and archery.
Located on Rivard Plaza, The Flagstar Kids Zone will keep kids laughing and playing all weekend long. Parents just need to pick up a free wristband from the Flagstar Bank Booth at the festival. The Kids Zone produced by The Parade Company will feature magic and puppet shows, face painting, hand painting with the Detroit Institute of Arts, recyclable crafts with Arts & Scraps and AM 910 Radio Disney entertainment on the Meijer Kids Stage. Rivard Plaza will also be the site of a 50-ton sand sculpture presented by Quicken Loans and designed by Team Sandtastic.
Kicking off the festival activities on Saturday, June 22, the DMC River Days 5K Walk and Run will showcase the Detroit RiverWalk, including the Milliken State Park and provide a healthy, fun experience for participants.
Proceeds from the event will help support the non-profit Conservancy. Interested runners may register at RiverDaysRun.com.
Strolling busker entertainment, a popular addition to last year's event, will return for the second straight year. Concentrated in three areas along the RiverWalk, magicians, acrobats, living sculptures, musicians and more will delight and entertain all ages.
As always, festival-goers can take advantage of great fun on the water with the Diamond Jack River Tours, as well as tours of the Appledore IV tall ship presented by Detroit Marriott at the Renaissance Center docked at the Detroit/Wayne County Port Authority Dock. And festival favorite, Typhoon Tommy and his world-class jet ski team will use the Detroit River as their stage to perform big air jumps, flips and underwater dives for the crowds along the Riverfront.
The Soaring Eagle Cuisine Machine will be the star of the Pepsi Taste of Detroit Food Court. In addition, more than 20 eateries will present fabulous food throughout the weekend, including Detroit's own Cliff Bell's, Palm Palace, Wingstop and River Walk Café.
"The Soaring Eagle Casino & Resort is excited to step up our partnership with River Days and the Detroit RiverFront Conservancy," said Raul Venegas, marketing director for the Mt. Pleasant Resort. "We see River Days as a unique regional festival with a beautiful backdrop and large crowds, making it perfect to showcase our resort, entertainment and great cuisine."
The 2013 GM River Days Presented by Soaring Eagle Casino & Resort kicks off Friday, June 21 at 11 a.m. and spans from the William G. Milliken State Park and Harbor to the Detroit/Wayne County Port Authority Terminal & Dock, just past the Renaissance Center. Festival hours are 11 a.m. – 11 p.m. on Friday and Saturday; and 11 a.m. – 10 p.m. on Sunday. The Conservancy will charge a $3 admission fee (and $5 after 5 p.m.) to help underwrite programming and operational costs for the festival. For a full schedule of events and activities, please visit RiverDays.com.
GM River Days Presented by Soaring Eagle Casino & Resort is supported by Barefoot Winery, Blue Cross Blue Shield of Michigan and Blue Care Network, Brown Forman, Chandler Group, Detroit Marriott at the Renaissance Center, Detroit Medical Center, ePrize, Flagstar Bank, Great Expressions Dental Centers, Great Lakes Beverage, HAP, Help Eliminate Auto Thefts, Knight Foundation, Made in Detroit, Majic Window, Meijer, MetroPCS, Michigan Lottery, Pepsi, Premier Ticket Service, Quicken Loans, Securitas, Sleep Innovations, The Truth Campaign, Virtual Emergency Services, LLC and Wingstop.

About Post Author