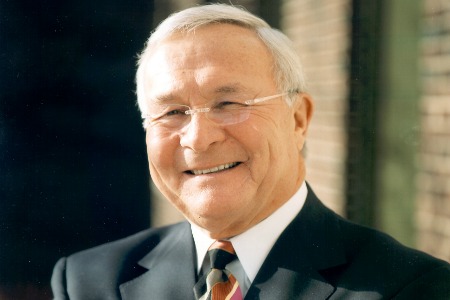 One might think coming face-to-face with the grim reaper following a major auto accident where doctors told his family he had a 3 percent chance of survival might dramatically change someone. Not so for Oakland County Executive L. Brooks Patterson. At least not when it comes to his politics and his larger than life John Wayne-like personna. As for his priorities in life, well, that's another matter.
The longest serving of the region's "Big Four" political leaders, Patterson has steadfastly run Oakland as its county executive for over 20 years. He served 16 years as Oakland County prosecutor before that. The outspoken 73-year-old still packs a mighty powerful verbal punch as he travels to talk shows, newsroom editorial offices and others places from the wheelchair he uses to get around as he recovers. His injuries were massive with two broken legs, a broken hip, two broken wrists, major laceration on his forehead, broken ribs and more.
Patterson was a passenger in a car driven by Jim Cram, his driver, as it was t-boned at an intersection by another driver who ignored a traffic signal that fateful afternoon last August. Cram remains hospitalized and is now a quadriplegic.
Patterson was kept in a medically induced coma for 18 days as he weathered painful surgeries. He faced intense and grueling rehab which continues today with sessions at least three days a week. He had hoped to walk by now unassisted by a wheelchair or cane. But his hip injury was so bad doctors feared putting him through another surgery at the time. They patched his hip knowing it would need to replaced when he was stronger. Patterson hopes to walk once that surgery takes place in six or eight months. Though in constant pain, he won't let himself complain. "All I have to do is think of Jimmy in that hospital bed and it puts things in perspective," he said.
The man known for his quick wit and sometimes sharp tongue has never been one to run from a fight. Showing his sense of humor, at his annual birthday bash in January he gave out bottles of wine with a label that showed a photo of him with someone saying "he looks good" and his response, "I went on a crash diet."
Indeed he lost some 40 pounds during the saga. Life sometimes has a way of forcing even larger than life figures to regroup once in a while.
Like when Patterson lost his beloved 28-year-old son, Brooksie, in a snowmobile accident where he was hit by another several years ago. He also lost his twin brother, a nephew, a good friend who was killed along with his two children in a plane crash. Each time tragedy struck, Patterson has done what comes naturally to him — he makes lemonade out of the lemons life has dealt.
The Brooksie Way is a half marathon named after his son that raises money and gives grants to organizations helping people live healthier. Patterson also started the Rainbow Connection in memory of his friend and two children who died in that plane crash. It has granted wishes to over 2,500 very sick children.
With so much drama, one might think he'd be ready for just about anything. Admittedly the fallout from his auto accident has tested him in ways he could never have imagined. For an impatient Type A personality who doesn't like to wait, it's meant recalibrating his entire life as he needs help moving around or going to the other side of the room to get a book. It's because he travels in a wheelchair and would need to climb into horse drawn carriages while on Mackinac Island that Patterson decided against attending the Detroit Regional Chamber's Policy Conference for the first time in 20 years. His doctors told him he should not go.
"I'll miss the networking that takes place and the comraderie," he said.
He'll also miss taking part in the "Big Four" with Mayor Dave Bing, Macomb County Executive Mark Hackel and Wayne County Executive Robert Ficano. It started as an annual event at the Chamber's policy conference decades ago. With Patterson's absence, the "Big Four" was cancelled.
Though he won't be on the island, we had a chance to talk about a number of issues after taping "Michigan Matters" where Patterson has been a regular panelist on the Emmy winning show since its debut eight years ago (it airs 11:30 am Sundays on CBS 62). All topics were fair game and nothing was off the record.
Q: What is the biggest issue or issues before you as county executive?
A: Keeping (Quicken Loans founder ) Dan Gilbert out of Oakland County! He's conducted more raids than the Apaches! (Gilbert said during a recent Michigan Chronicle' "Pancakes and Politics" appearance he's trying to convince Detroit Pistons owner Tom Gores to move the team to downtown Detroit.)
I'm also trying to complete our Emerging Sectors Initiative which we started in 2004 to attract more diverse companies so we could lesson our reliance on the automotive industry.
We are way ahead of schedule as we have attracted 238 companies that have contributed $2.2 billion in business.
Q: After some tough years the entire state endured, how is Oakland doing today?
A: We are debt free. We have no legacy costs. We were the first county in the nation to pay off our legacy costs. We are now building up our reserves. I feel really good about Oakland.
Q: Speaking of legacy costs, Detroit Emergency Financial Manager Kevyn Orr presented his report about Detroit. He talked about the impact of legacy costs and healthcare. Your take on that?
A: Bob Daddow (Patterson's deputy county executive) was talking about bankruptcy as the only option for Detroit three or four years ago. He was the lone voice in the wilderness.
I feel bad for the city and for Oakland too because if Detroit eventually goes bankrupt, I will lose my county's AAA bond rating.
Q: Do you see any way Orr can avoid that scenario?
A: Only if he gets cooperation and concessions from the unions, vendors.
Q: Your thoughts on Dave Bing's decision not to seek re-election and possibly run for Wayne County executive in 2014?
A: I'm very surprised. I wish him well.
Q: Bob Ficano, who runs Wayne County, has been in the headlines. Your thoughts on his situation?
A: He's been having a bad year or two. It started with Turkia Mullins (his former deputy) and those bonuses.
I like Bob and am not enjoying seeing him pilloried but he's in large measure to blame for his management style.
I deal with a budget that is $780 million. If I had a county budget of $2 billion (as Wayne County does), Oakland County's streets would be paved with gold!
Q: As a political veteran, your take on Ficano's re-election prospects next year?
A: I think he will have a tough time getting re-elected because his fundraising has been severely damaged by this year-long assault.
Q: Let's talk about regional cooperation and efforts to do things together. Cobo Center's renovation is finally under way. It took years of bickering between city and suburbs, including you. What changed that relationship?
A: You might call it bickering but I call it a refusal to give in on the voting procedure for the five-member authority. Oakland deserves credit for that change because we insisted all actions (involving Cobo) had to have a unanimous vote of the (Cobo Authority board). Once that got adopted, things started getting done.Cobo will be one of the top three conference centers in America when it is done.
Q: What about Regional Transit Authority?
A: We are doing some good things there and for the same reason. Everyone on the board has a voice.
Q: Let's talk about another fellow executive, M
ark Hackel, who has been in his position in Macomb County for two years. How do you think he is doing?
A: He's doing a good job. But he has the same problems that (Oakland's first county executive Dan) Murphy had. The lines of authority are not clearly marked and there is a lot of posturing and push back from the board.
He can be county executive for life if he wants to be.
Q: Your thoughts on Republican Gov. Rick Snyder?
A: He'd done a good job.. The patient was on life support when he got there. I don't agree with everything he has done but he had made a lot of tough choices to make things happen.
Q: It was two years ago at Mackinac that Gov. Snyder talked about getting the Canadian Bridge deal done in a few weeks. You were there too.
A: I recall telling a reporter when I heard him say that, "Did you see those pigs fly by the Grand Hotel!"
I think it was his political inexperience talking at that time. I think he has a much better sense about how things work now. He's a quick study.
Q: Gov. Snyder will run again next year most assume. Is he a shoo-in?
A: He will have to fight for it. Nothing is guaranteed. I will be supporting him.
Q: Speaking of comments, you took a lot of heat when you talked about House Speaker Jase Bolger and called him "Adolph Bolger" for his stand on no fault auto reforms and putting a ceiling of $1 million on medical costs. Any regrets about saying that?
A: No. I said it then and I will say it now, the effort to reform no fault is just cruel. I don't think it will happen as we have the votes to block it.
Q: You and Bob Ficano were recently seen at a union hall meeting schmoozing with dozens of local labor leaders and other mostly Democratic politicians. You aren't up for re-election for three years. What's up with that? A: It was a great event to meet with people. Most of them agree with me on the no fault auto reform bill. I've also had great support from the carpenters union and the bricklayers.
Q: You've had so much to deal with as a result of your accident. How have you been able to keep such a positive attitude?
A: I have a picture of my son Brooksie in my office which has a frame that says "God doesn't give us more to deal with than we can handle" and "God will help us handle what we are given." I've become much tougher and more patient than I ever thought I could be.
Q: Some people, including the media, were upset your staff said they were consulting with you in the early days after your accident when you were in a medically induced coma for 18 days. Were you upset your staff was not forthcoming with the facts?
A: I have the best staff in politics and they did what they thought was right.
Q: Every year at this policy conference, talk turns to politics. What's the latest on your political future?
A: It's far too soon for me to decide. If my health is good, I may run. My hero is Ronald Reagan who governed into his eighties.
Editor's Note: Carol Cain is senior producer and host of CBS 62's "Michigan Matters" which airs Sunday at 11:30 am on CBS 62 . She moderates the Michigan Chronicle's "Pancakes and Politics" forums and also writes a column in Sunday's Detroit Free Press.