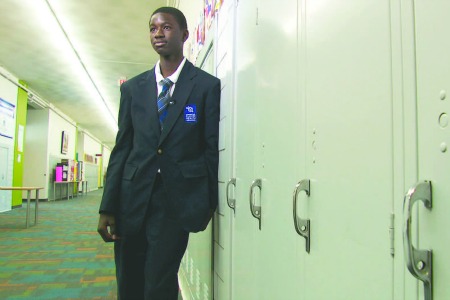 MOUSSA KABA is a teen enrolled at Cornerstone Health High School which started as a joint effortmof Cornerstone Schools, Grand Valley State University and Detroit Medical Center to train more young people for healthier careers and address the growing need in that burgeoning jobs sector.
– Photo Courtesy CBS 62 / Paul Pytlowany
With seismic technology shifts and other changes sweeping through companies, schools and communities, what's ahead for the state that put the world on wheels?
A big time talent gap as those changes have helped fuel a divide as many workers and companies in manufacturing, information technology, healthcare and engineering are in jeopardy with reports of over 63,000 jobs in Michigan unfilled right now.
If nothing is done, this situation will only worsen with baby boomers retiring, leaving more voids with fewer young people prepared for those jobs.
Add in the brain drain of young talent and what's left is a talent disconnect that could threaten Michigan's future.
Which is why leaders from across the state including Gov. Rick Snyder, Quicken Loans Founder Dan Gilbert, Amway President Doug DeVos, Ford Chief Operating Officer Mark Fields, DTE Energy CEO Gerard Anderson, UAW President Bob King, and Northern Michigan University President David Haynes — are channeling new efforts and programs to address this problem.
CBS 62 will showcase some of those efforts in its latest "Eye On The Future" prime time TV special "Bridging Michigan's Workforce Divide" airing Sunday, June 2 at 6:30 p.m. This program shows what is taking place in Detroit, Grand Rapids and Marquette that will help bridge that disconnect.
And it also shares insights from experts on what people and businesses need to know to be better prepared for the jobs of today and tomorrow.
Snyder kicked off the conversation earlier this year with his two day economic summit in the Motor City that brought together students, educators, CEOs and business organizations to focus on it.
"We could lower our unemployment rate 1.5 percent by filling those 63,000 open positions," Snyder said.
"We're focusing as a state to say that the jurisdiction that does the best job of matching supply to talent will have a strong strategic advantage over other parts of the country and the world," Snyder explained.
Among some of the programs highlighted in the fast paced "Bridging Michigan's Workforce Divide" special:
Cornerstone Health High School which joins Grand Valley State University, Cornerstone Schools and Detroit Medical Center as they team up in a new charter school in Detroit that has a mission of helping its first class of 70 students gear up for careers in the burgeoning healthcare sector.
Detroit Chassis, an auto supplier on Detroit's east side, had such a growing need for employees as its business grew that it turned to Michigan Economic Development Corporation's Community Ventures programs and hired dozens of workers who were considered unemployable.
It gave those workers a chance at a new life and also helped the company prosper.
Cliffs Natural Resources in the Upper Peninsula – like many companies across the state — is addressing its talent needs by working with schools including Northern Michigan University and business organizations to find and train good workers.
With 50-percent of Cliffs' workers retiring the past five years, it has become a focal point for the iron ore mining company.
There are lessons to be learned from Cliffs Natural Resources, Detroit Chassis and Cornerstone Medical High School.
"Bridging Michigan's Workforce Divide" will also show viewers where the good paying jobs are right now in key Michigan markets.
Editor's Note: Watch "Bridging Michigan's Workforce Divide" 6:30 p.m. Sunday, June 2 on CBS 62. Carol Cain is Senior Producer and Host of "Bridging Michigan's Workforce Divide" and CBS 62's "Michigan Matters." She can be reached at clcain@cbs.com.