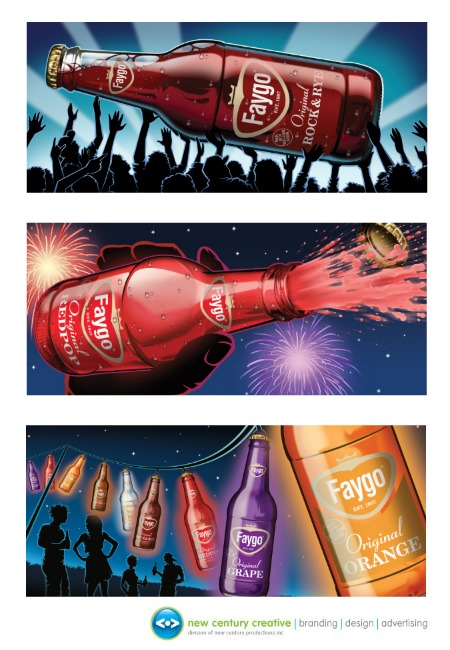 The unique "Summer Silhouettes" Outdoor Campaign by Faygo Beverages, Inc. has been chosen as a finalist for the Outdoor Advertising Association of America (OAAA)'s 2013 OBIE Awards, the oldest and one of the most prestigious awards in the advertising industry. The series of billboards was created by Faygo partner, West Bloomfield, Mich. based, New Century Creative.
"Faygo's refreshing flavors have been chosen as Detroit's favorite cold drinks on hot summer days for more than 105 years," said Al Chittaro, executive vice president of Faygo Beverages, Inc. "New Century helped bring our message to the Detroit skyline with fun and charming nostalgia."
Faygo is one of several nominees selected to become a Finalist, Silver or Gold OBIE winner. The winning campaigns will be revealed at the 71st OBIE Awards Gala, Tuesday, May 21, the closing night of the 2013 OAAA/TAB National Convention &Trade Show in Los Angeles, CA.
New Century has worked with Faygo for over a decade creating "dee-licious" outdoor campaigns in addition to various creative on several campaigns.
"We helped design Faygo's retro branding and glass bottle product packaging . . . which then inspired us to incorporate these stylish products into original artwork representing silhouetted summertime fun," said Jonn Shamoun, Creative Director at New Century Creative. "Being recognized by our peers while showcasing Detroit's own Faygo brand is truly one of the highest honors we could achieve."
About Faygo
Founded by the Feigenson brothers, immigrant bakers from Russia, Faygo began as the Feigenson Brother Bottling Works on November 4, 1907. In the 1920s, they pared down their name to Faygo because it was too long to print on bottles. The entrepreneurs were also credited with coining the term "Pop" for their soda because of the sound made when opening a bottle. The company expanded its business with a large facility on Gratiot Avenue in 1937, which serves as Faygo's bottling plant and headquarters to this day.
For more than 100 years, Faygo has developed beverages in a wide range of flavors, including Detroit favorites, Redpop and Rock & Rye. Faygo has been a part of the National Beverage family since 1987.
Faygo Orange has been voted "favorite orange soda" by Serious Eats, a Website focused on celebrating and sharing food enthusiasm, and Bon Appétit magazine has ranked Faygo Root Beer as one of the best Root Beers in America. For more information visit:www.facebook.com/faygo or www.faygo.com.
About Post Author