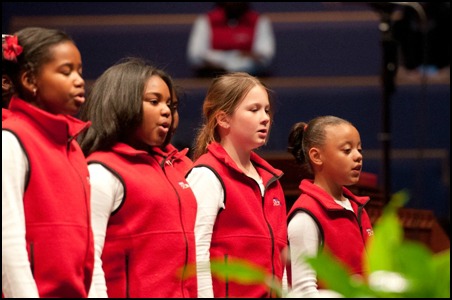 The Detroit Children's Choir (DCC), in partnership with the Detroit Symphony Orchestra's Civic Youth Ensembles (CYE), is excited to announce the creation of the Detroit Children's Choir's Concert Chorale, a groundbreaking choral program for metro Detroit children. The Concert Chorale will be a unique education and performance experience led by DCC artistic director Lauri Hogle. The program's opening season will begin in the fall of 2013.
"We are thrilled to be joining with the Detroit Symphony Orchestra's Civic Youth Ensembles to offer this incredible new experience to the children of southeast Michigan," said Hogle. "The kids involved with this program will be surrounded by excellence, rigorous training, and focused, positive development of musical skill and musicianship. Choral music has the power to shape a life, develop a leader, and instill confidence with successful creation of something beautiful, positive, and uplifting."
Concert Chorale members will receive music literacy and sight-reading training as well as learn healthy vocal technique. Repertoire will vary across musical genres including pieces from American culture heritage, classical choral repertoire, and texts in foreign languages. In partnership with CYE, chorale members will be immersed in a number of extraordinary performance opportunities with access to the state of the art facilities of the Max M. Fisher Music Center – including historic Orchestra Hall.
"As a community supported orchestra, the Detroit Symphony Orchestra is committed to partnering with wonderful organizations such as the Detroit Children's Choir," said Charles Burke, CYE Artistic Director. "The Concert Chorale will allow children from all across metro Detroit to come together and create a community of choral singing that will transform the lives of all involved. The DSO's Civic Youth Ensembles is happy to be committed partners in this valuable and important effort."
The Concert Chorale is open to all children ages 8-14 who have unchanged treble voices and are able to match pitch. Children must be focused and committed, love to sing, and be willing to grow in their music comprehension and choral skills. Rehearsals will be held on Monday evening from 6:00 to 8:30 p.m. at the Max M. Fisher Music Center.
Registration cost for the Concert Chorale is $400 for the season. Scholarship opportunities and payment plans are available. Limited spaces are available. For registration information, please call the DCC office at (313) 833-4432 or visit www.detroitchildrenschoir.org.