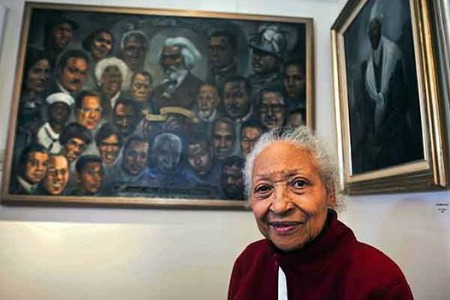 Detroit, MI, May 20, 2013 –ArtPlace America announces today the award of a $200,000 grant to Detroit Economic Growth Association for REVOLVE Detroit to activate empty storefronts along Livernois Avenue with art and related activities. The project was chosen from over 1,200 applications as an exceptional example of creative placemaking.
REVOLVE Livernois will match world-class designers and artists with local university students, residents, and entrepreneurs. Artists will create temporary and permanent installations for vacant storefronts and public spaces. Along with other art-related events, the installations will continue to re-vitalize Detroit's historic "Avenue of Fashion." This summer, a local panel will select five artists with national reputations, five local artists, and several University students to create original works inspired by the district and its rich legacy. The installations will be displayed early next fall.
ArtPlace America is a collaboration of leading national and regional foundations, banks and federal agencies committed to accelerating creative placemaking – putting art at the heart of a portfolio of strategies designed to revitalize communities. This is ArtPlace America's third cycle of grant awards, and Detroit was one of 54 organizations that earned an award.
"The Avenue of Fashion has and always will be one of Detroit's premiere cultural and entertainment districts," said Olga Stella, vice president, business development at Detroit Economic Growth Corporation (DEGC). "Our goal is to show how the arts can serve as a catalyst for community and economic revitalization."
Kim Swift an artist with the studio We Came In Peace, and creative director for the project said, "Detroit is rapidly evolving as a cultural hotbed for artists and young entrepreneurs from all over the world. The Avenue of Fashion is a perfect place for a diverse group of local and international artists, architects and designers to come together with the community and rediscover the greatness that?s already there. By connecting the emerging with the established to create spaces and art that engages, inspires and builds commercial interest, we aim to foster a climate of possibility and strengthen the fabric of the community."
Kim Tandy, program manager at University Commons said, "Livernois Avenue has a great tradition of art, fashion and music, and we are very pleased to be able to showcase the work of artists from other parts of the country and the world with some of the great work of Detroit artists. Detroit ArtPlace projects will help us continue the momentum we have built for re-invigorating this important district of Detroit. Watch for more to come."
Rip Rapson, chair of ArtPlace America's Presidents' Council and president and CEO of The Kresge Foundation said, "ArtPlace America recognizes the central role arts and cultural activities can have in the revitalization of American cities. With this grant award ArtPlace America is directing individual project support to scores of creative, high-impact projects throughout the country."
REVOLVE activities along Livernois Avenue are part of a collaborative effort among government and non-profit agencies, businesses, anchor institutions such as University of Detroit-Mercy and Marygrove College, and University Commons community organization. The initiative is supporting ongoing projects that are revitalizing this important district of Detroit.
One of the consulting project managers on the Livernois project is Mosaic Urban Partners, an advisory services firm that specializes in the regeneration of urban neighborhoods throughout the country. Mosaic has worked on a number of projects in Detroit and will also provide national best practices expertise on creative placemaking and arts-based revitalization projects.
About REVOLVE
REVOLVE Detroit is a collaborative program of the DEGC that partners with community leaders, building owners, entrepreneurs, and artists to activate vacant storefronts with transformational businesses and art installations. The goal of the program is to foster the evolution and vibrancy of Detroit?s neighborhood business districts.
https://www.facebook.com/RevolveDetroit
About Detroit Economic Growth Association
Detroit Economic Growth Association (DEGA) is a non-profit organization dedicated to the economic development of the city of Detroit. DEGA is administered by Detroit Economic Growth Corporation (DEGC), a non-profit organization that serves as the lead implementing agency for business retention, attraction and economic development initiatives in the city of Detroit.
DEGC is led by a 60-member board comprised of business, civic, labor and community leaders. Its 40 professionals provide staff services for key public authorities that offer tax credits and other forms of financing for projects that bring new jobs or economic activity to the city. Among them: the Downtown Development Authority (DDA), Detroit Brownfield Redevelopment Authority (DBRA), Economic Development Corporation (EDC), Neighborhood Development Corporation (NDC), Local Development Finance Authority (LDFA), and Tax Increment Finance Authority (TIFA). DEGC also provides planning, project management and other services under contract to the City of Detroit.www.degc.org
About ArtPlace America
ArtPlace America provides grants and loans, supports research, and conducts outreach and advocacy. To date, ArtPlace America has awarded 130 grants totaling $42.1 million to 130 organizations in 90 U.S. communities (and a statewide project in the state of Connecticut).
Foundations participating in ArtPlace America include Bloomberg Philanthropies, The Ford Foundation, The James Irvine Foundation, The John S. and James L. Knight Foundation, The Kresge Foundation, The McKnight Foundation, The Andrew W. Mellon Foundation, The William Penn Foundation, The Rockefeller Foundation, Rasmuson Foundation, The Surdna Foundation, and two anonymous donors.
ArtPlace America also seeks advice and counsel from close working relationships with various federal agencies, including the National Endowment for the Arts, the departments of Housing and Urban Development, Health and Human Services, Agriculture, Education, and Transportation, along with leadership from the White House Office of Management and Budget and the Domestic Policy Council.
ArtPlace America is also supported by a $12 million loan fund capitalized by six major financial institutions and managed by the Nonprofit Finance Fund. Participating institutions are Bank of America, Citi, Deutsche Bank, Chase, MetLife, and Morgan Stanley. www.artplaceamerica.org