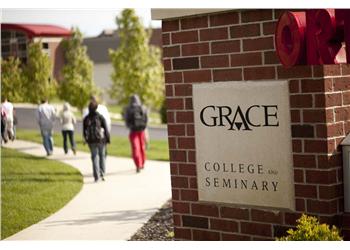 Grace College announces the opening of its third commuter location in the city of Detroit this coming August. Grace chose the location in Detroit based on an invitation from Evangel Ministries. Grace College Detroit will offer an A.A. or A.S. in General Studies (Liberal Arts) for traditional students seeking to live at home and save money while completing their first two years of college.
"Grace College Detroit is being established in response to the need for accredited ministry training in Detroit," said Dr. Bill Katip, president of Grace College and Seminary. "There is a large population in the area who are interested in ministry education, so we are partnering with Evangel Ministries and their senior pastor Christopher Brooks to fill that need."
Grace College Detroit will also offer an A.A. or A.S. in Biblical Studies. This is a degree completion program for adult students who have already earned a certificate from Detroit Bible Institute, Ashland Theological Seminary or Moody Bible Institute in Detroit. This A. A. degree program will be offered this year through evening classes for working students who wish to earn an associate degree.
Grace's initial commuter locations and The Henry and Frances Weber School were founded in 2011. Tuition is $3,900 per semester; this is significantly lower than most other Christian residential colleges and comparable to public commuter college tuition. The Grace College Detroit site joins Henry and Frances Weber School sites already established in Fort Wayne and Indianapolis.
Matt Parker, site director, said, "Grace College Detroit provides an opportunity for young people to receive a Christ-centered education that is affordable and accredited. It's also an opportunity for church and ministry leaders to increase their knowledge and leadership skills."
The school administration also has plans to offer a Bachelor of Science in Ministry Studies degree completion program beginning fall 2014. The school has accreditation with the Higher Learning Commission and is a member of the North Central Association.
Grace College and Seminary is an evangelical Christian community of higher education that offers undergraduate and graduate degrees and applies biblical values in strengthening character, sharpening competence and preparing for service. Grace College also offers flexible online graduate degrees, on-campus and online degree completion programs, and highly affordable, easily accessible two-year degree programs in Detroit, Fort Wayne and Indianapolis. The 180-acre main campus is located in the historic resort town of Winona Lake, near Warsaw, Indiana.
About Post Author