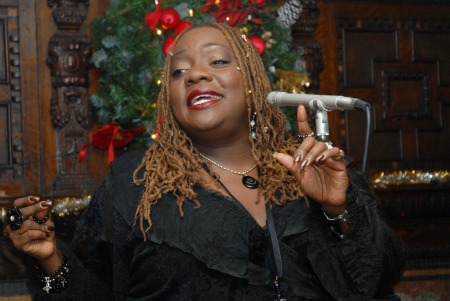 The paradisal spring gardens behind a stately Palmer Woods Mansion will be swaying with the hot rhythms of Orquesta La Inspiracion's horns, percussion and vocals for the upcomingPalmer Woods Music in Homes concert on Saturday, May 25 at 8 pm. A delicious Mexican feast will be served during intermission, and the main floor of the home will be open for a tour prior to the concert.

Orquesta La Inspiracion is led by award-winning jazz pianist and music director Bill Meyer. Bringing together veterans of Detroit's Latin and jazz scenes, his ear respects and his hand reveals these distinct ­traditions to produce authentic music derived from the Spanish-speaking Caribbean. Meyer's new musical structures also include elements of Yoruban, Congolese, and Dahomean traditions.
This is a concert where the audience is encouraged to not keep still. ­Propelled by the rhythms and tones of Afro-Cuban pop and salsa, those within earshot instantly become part of the unique Latin pulse and are often up on their feet dancing.
The Palmer Woods Music in Homes series presents outstanding live music set in the magnificent homes of one of the City of Detroit's most beautiful and historic neighborhoods. The 2012-2013 season launched in December, followed by a jazz, classical or world music concert each month in a different magnificent home. The spring-summer concerts are held in beautiful gardens, shelter by a spacious tent.
Tickets, $40 or $35 each for groups of 10 or more, are sold in advance only and can be purchased online at palmerwoods.org or by calling 313-891-2514. The location of the home is provided to ticket holders. The concerts are special opportunities to hear world-class musicians who have Detroit-area roots. Included is a reception with delicious food, beverages and desserts (often related to the musical style).
The June concert will be held under the sunshine and stars beneath a large tent in the magnificent garden behind a meticulously restored 4,700 sq. ft. Italian Renaissance mansion. The main floor of the home will be open for a guided view during part of the evening.
On
Friday, June 21
, the musical bouquet is infused with a mixture of jazz and classical influences, as well as Argentine tango and Spanish works, performed by the
Spencer Barefield Super String Quartet
.
On Saturday
, the
Thornetta Davis ensemble
will journey through the jazz world with a funk-fusion-R&B edge.
For the past six years, Palmer Woods residents and Creative Arts Collective spearheads Barbara and Spencer Barefield have asked their neighbors to welcome 100-200 guests into their homes to support the arts and help to raise money to benefit their historic neighborhood.
The response has been extraordinary. "We have produced more than 50 concerts with the Palmer Woods Association, and they all sell out, sometimes more than a month in advance," guitarist/composer Spencer Barefield explains. "Musicians — incredible Detroit-based artists with international acclaim — are thrilled to perform. There have even been a number of concert guests who were so impressed with the neighborhood that they decided to buy a home and move here."
Some homeowners have so much fun that they have signed on year after to year as hosts. There is a neighborhood team that assists with concert receptions, preparing culinary feasts to match the music. Guests — who travel from far and wide — are loyal supporters. The Barefields, in collaboration with the neighborhood, have created a unique way to support the arts, improve the image and quality of life in Detroit and their historic neighborhood, and preserve its architectural treasures and history.
Music of the Grand Finale – Summer Solstice weekend:
The grand finale weekend opens on Friday, June 21 at 8pm with the Spencer Barefield Super String Quartet. "Paganini to Piazzolla, Barefield & Beyond" will be presented by this adventurous ensemble—featuring world-renowned guitarist A. Spencer Barefield, violinist Jannina Barefield Norpoth, violist John Madison and bassist John-Paul Norpoth. The quartet straddles the boundaries of traditional, avant garde and modern jazz, classical, world music and other music idioms.
The multi-talented string players will perform exciting works composed by 2010 Kresge Arts Fellow Barefield, as well as selections that will come from their repertoire, such as legendary jazz composers such as Joe Henderson, Dizzy Gillespie, Oliver Nelson, John Coltrane, Thelonius Monk, Duke Ellington, Billy Strayhorn. Add some spicy classical works of Spanish composers Enrique Granados and Manuel de Falla, and Argentine tango composer Astor Piazzolla, and the challenging works of Niccolò Paganini, for out-of-this-world music — performed by four virtuosic, super string players.
Jannina (Spencer's daughter) has soloed with the Detroit Symphony, and has been a featured performer alongside Itzhak Perlman, Emmanuelle Boisvert, Regina Carter, Marcus Belgrave, Beyoncé and Jay-Z. Jannina's husband John-Paul has performed under the batons of Itzhak Perlman, Kurt Mazur, Bright Sheng, Jamie Laredo, Otto Werner Mueller and others in numerous New York-area orchestras. John is the principal violist for the Michigan Opera Theatre and regular Detroit Symphony Orchestra sub. He is among the Detroit area's most esteemed performers and educators.
In addition, there will be a free concert for children from 5-6 with the A. Spencer Barefield Super String Quartet. Reservations can be made at
palmerwoodsmusicforchildren.eventbrite.com
On Saturday, June 22 at 8 pm, Thornetta Davis and her ensemble fill the stage.
Detroit's "Queen of the Blues" is equally at home with R&B, soul, and the timeless Motown sound.
Her voice is at once commanding and deliciously smooth. Thornetta's seductive way with melody has made her a natural to perform as an opening act for stars as diverse as Ray Charles, Smokey Robinson, Etta James, Buddy Guy, Gladys Knight, Junior Wells, Lonnie Brooks, and Johnnie Johnson.
Thornetta is an extraordinary artist whose other venues include the Ann Arbor Blues and Jazz Festival (with Bonnie Raitt) and the Lilith Fair at Pine Knob (with Sarah McLachlan). Even Kid Rock sings Thornetta's praises, after sharing the stage with her at the VH1 Vogue Fashion Awards at Madison Square Garden. She has also recorded vocals for CDs by Kid Rock and Bob Seger.
For more than two decades, Thornetta has been one of the driving wheels of Detroit's rich musical heritage. In 2001, she was inducted into the Detroit Music Hall of Fame. In 2002, the Detroit Music Awards honored her live record at the Music Menu as Best R&B/Blues Recording. She has continually won top honors from the Detroit Music Awards as outstanding blues/r&b vocalist.
Thank you to our presenters, Palmer Woods Association and Creative Arts Collective, and our sponsors: Be Well Medical Center & Skin Rejuvenation; Barefield DesignWorks; Blossoms Birmingham; City Living Detroit, DMC Sinai-Grace Hospital, WRCJ-90.9FM.