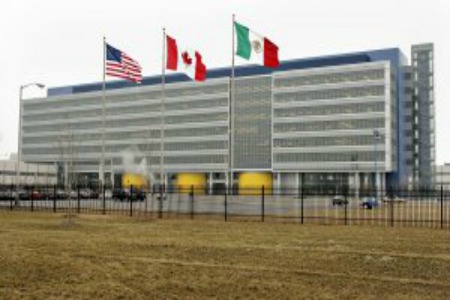 As GM Student Corps members, they'll help improve neighborhoods, learn valuable life skills
A group of 110 Detroit-area high school students are about to begin paid summer internships as members of the brand-new GM Student Corps, a program introduced today by General Motors North America President Mark Reuss that combines service, education and mentoring.
The students representing 11 United Way Network of Excellence Schools will work in teams of 10 to develop and implement service projects in Detroit-area neighborhoods. Helping to train and mentor them are 60 GM retirees and 12 GM student interns from the University of Detroit Mercy, where many students major in service-based programs. Employee volunteers from TeamGMCares also will assist throughout the summer.
The teams are currently planning their projects. Work is scheduled to begin in mid-June and conclude in August.
"Improving the quality of life in our communities means more than writing a check," said Reuss. "It also requires investing in our young people, teaching them how good it feels to see their hard work help others, and providing them with the skills they need to lead and succeed as professionals and as citizens. Once you serve, you're hooked for life."
A unique aspect of the GM Student Corps is that it unites people from a range of age groups and walks of life to work toward a common goal – improving local neighborhoods – while helping students develop career skills.
Schools participating in the GM Student Corps are: Central Collegiate Academy, Detroit Public Schools Cody Campus, East Detroit High School, Hamtramck High School, Harper Woods High School, Henry Ford High School, Madison High School, Melvindale High School, Detroit Public Schools Osborn Campus, River Rouge High School and Van Dyke Lincoln High School.
In addition to managing every aspect of their projects, from budgeting to planning to implementation, the students will meet periodically with mentors for life skills sessions following a curriculum developed by Junior Achievement.
Examples of service projects might include painting and cleanups at local parks, planting and tending a community garden, setting up food banks or meal programs and others. Life skills sessions include career development, banking and finance, and health and safety.
Also, interns will be exposed to various career and educational opportunities at Focus: HOPE, Junior Achievement "Financial Park," the GM Design Center and GM Heritage Center, the GM Detroit-Hamtramck Assembly Plant and the UDM campus.
GM will pay for the budgeted student projects and provide Chevrolet Express vans and Chevrolet Silverado full-size pickups so adult mentors can transport materials and students to project sites and life skills classes.
Throughout the summer, students will be encouraged to document their projects on social media such as Facebook, Twitter and Instagram using the hashtag #GMStudentCorps.
GM Student Corps members were selected based on leadership potential, overall energy, enthusiasm and grit, school activities, citizenship and academic performance. At the end of the summer, leaders from each student team will formally present their programs and results to Reuss and his staff. In addition, the GM Summer Corps experience will be chronicled in a documentary filmed by UDM Professor Jason Roche.
Leading the 60 GM retirees is former GM executive Mike DiGiovanni, who retired in 2010 and is now a full-time professor of economics at the UDM.
"As retirees, we look forward to joining forces with current company leaders as a unified GM to effect meaningful change in Detroit," said DiGiovanni, who grew up on the city's west side. "But most of all, we want this program to be rewarding, fun and life-changing for the students."
About Post Author