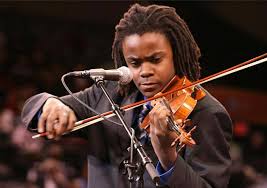 On Sunday, May 19, 150 Detroit students (grades 3-8) will perform on stage at Orchestra Hall, displaying months of hard work as participants in the Honda Power of Dreams String Music Project, a program presented by Honda and the Detroit Symphony Orchestra (DSO).

"Most of the children involved in this project would otherwise never have had the opportunity to even touch an instrument, let alone learn what effect playing music can have on every aspect of their life," said Charles Burke, DSO senior director of Education. "Thanks to Honda, some of them will pursue classical music as a career, but no doubt all of them will never forget this experience."

To commemorate the completion of five years of the Power of Dreams partnership, Honda will present the DSO with $150,000 that will provide participating students with another year of music education.

"Honda joined the Detroit Symphony Orchestra and Wayne State University on this project because our company values education, the arts and children," said Edward Miller, senior manager of Media and Industry Relations at Honda North America, Inc. "The Power of Dreams program unites all three for the benefit of our city and a new generation of rising artists."

WHEN: Sunday, May 19 at 7 p.m.
Students will perform works by Vivaldi, Scott Joplin and more, conducted by Tanya Bennett and Leslie DeShazor-Adams

WHERE: Max M. Fisher Music Center, Orchestra Hall
3711 Woodward Ave., Detroit 48201

About the Power of Dreams String Music Project In 2008, Honda provided the DSO with a gift of more than $1 million to create The Power of Dreams Music Education Fund with the purpose of supporting and expanding the DSO's nationally acclaimed music programs for young people, and particularly an effort to encourage and support involvement of children in Detroit.

This unique program, in collaboration with the Wayne State University Department of Music and Shar Products Company, is made available to students for whom string education is not currently available or opportunities are extremely limited. The program features a variety of opportunities for students to study classical Violin, Viola, Cello, and Bass through participation in various levels of group lessons, ensemble training, and individual lessons.

Honda is the world's largest engine maker, producing a vast array of products, including automobiles, motorcycles, power equipment and, soon, jet aircraft – all designed to advance mobility and improve the lives of people through continued innovations in technology and design. Based on its belief in The Power of Dreams, and in the ability of individuals to create a new and better future for society, Honda also supports a variety of initiatives aimed at advancing education and creating experiences of discovery that help people to see and achieve their own dreams. For more information on Honda's philanthropic efforts and other innovative business initiatives, please visit corporate.honda.com

For more information about Detroit Symphony Orchestra educational programs, visit the organization online at dso.org.