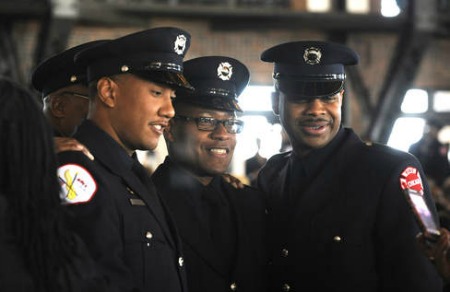 Funding Provided for Inspection of Aerial Ladders, Ground Ladders
DETROIT – Detroit Mayor Dave Bing announced today that AAA Michigan will donate $23,500 to the Detroit Public Safety Foundation to pay for the inspection of 20 aerial ladders and 4,600 feet of ground ladders used by the Detroit Fire Department (DFD). The gift is the latest in a recent series of recent corporate donations in support of the City of Detroit's public safety operations.
"Once again, one of Detroit's corporate citizens has come forward and generously shown its support for our public safety operations, our first responders and our citizens," Mayor Bing said. "The proper inspection of our fire department's aerial ladders and ground ladders was a critical need that AAA Michigan has graciously met. I appreciate the leadership and continued concern for public safety that AAA has demonstrated with this gift."
"Our history of supporting the community dates back nearly a century," said AAA Michigan President Steve Wagner. "We are very pleased to present the Detroit Fire Department with this grant, which we know will help save lives."
The ladder inspections are required to keep DFD equipment in compliance with standards of the National Fire Protection Association (NFPA), an independent organization that establishes fire safety codes and regulations for various industries and the firefighting profession. Detroit Fire Commissioner Donald Austin ordered last February that until a full inspection of the entire ladder fleet is completed, DFD will not engage in manned aerial ladder operations — unless there is an immediate threat to life. In cases where a manned ladder must be used, every effort will be made to properly support the ladder. DFD continues to use unmanned aerial ladders as "water towers" to fight large fires.
"We are grateful for AAA's generous donation," Commissioner Austin said. "Aerial ladders can place firefighters 100 feet above ground, often with large amounts of water flowing under high pressure. Because of the tremendous stress placed on ladders, regular testing is needed to find the smallest stress fractures and metal fatigue. Completing the testing of our aerial and ground ladders will go a long way toward ensuring the safety of Detroit's citizens and firefighters."
AAA Michigan, with 1.5 million members, is part of The Auto Club Group (ACG), the second largest AAA club in North America. ACG and its affiliates provide membership, travel, insurance and financial services to approximately 8.8 million members. AAA Michigan partners with civic and community groups and traffic safety organizations to improve neighborhoods and promote traffic safety through such programs as the AAA School Safety Patrol.
The Detroit Public Safety Foundation was formed in 2011 to support the Detroit Police and Fire departments. Mayor Bing's Active and Safe Campaign, launched last fall, has a similar mission of supporting Detroit's public safety and recreational programs. In March, the corporate community pledged $8 million to the public safety component of the Active and Safe Campaign. The money is being used to acquire 23 new ambulances for the Detroit Fire Department's EMS unit and 100 new patrol cars for the Detroit Police Department. To date, a total of $22 million has been raised toward the $60 million goal of the three-year campaign.

About Post Author